This analysis brought to you by RoboForex
Bitcoin has updated its all-time high again today. There is an opinion that the current bullish trend is going to continue in 2021 because institutional investors got access to the cryptocurrency market only recently and they are still buying BTC very actively. Moreover, experts continue comparing paper money, which is constantly depreciating as opposed to cryptocurrencies, and the digital currency from the fundamental point of view. Even now, a conservative forecast for 2021 implies $100-200 thousand per one Bitcoin. However, one shouldn't exclude corrections in case there are reasons for them. Any trend must "breathe" before further growth. Within the given scenario, the formation of ascending trendlines will only make them even more upward-sloping, which means that the trend is accelerating. An important support area right now is at $25,690, a breakout of which may result in a correction towards $24,000 and $22,000.
Also, there is information that rich north-Americans started investing in Bitcoin actively. The total number of accounts, which are buying the digital asset for more than $1 million and then withdraw it from exchanges, has skyrocketed recently. A tweet by Kate Rooney, a CNBC reporter, says that these investors are not trading intraday but just buying and storing their Bitcoins. Investment banks are also indicating the growing popularity of "digital Gold" with conventional investors. There is even an assumption that BTC may easily replace Gold as take its place as the key store of wealth.
Probably, the situation with XRP due to the US SEC accusations against Ripple also has a positive influence on BTC price. The XRP capitalization is plunging and the rate has plummeted by more than 50% since the moment the media reported on the regulator's intentions. Most likely, those, who were buying XRP tokens, are now trying to sell them quickly and choosing BTC as an investment instrument. Some exchanges have already delisted XRP because it's quite risky for them to support the cryptocurrency, which may be declared a security.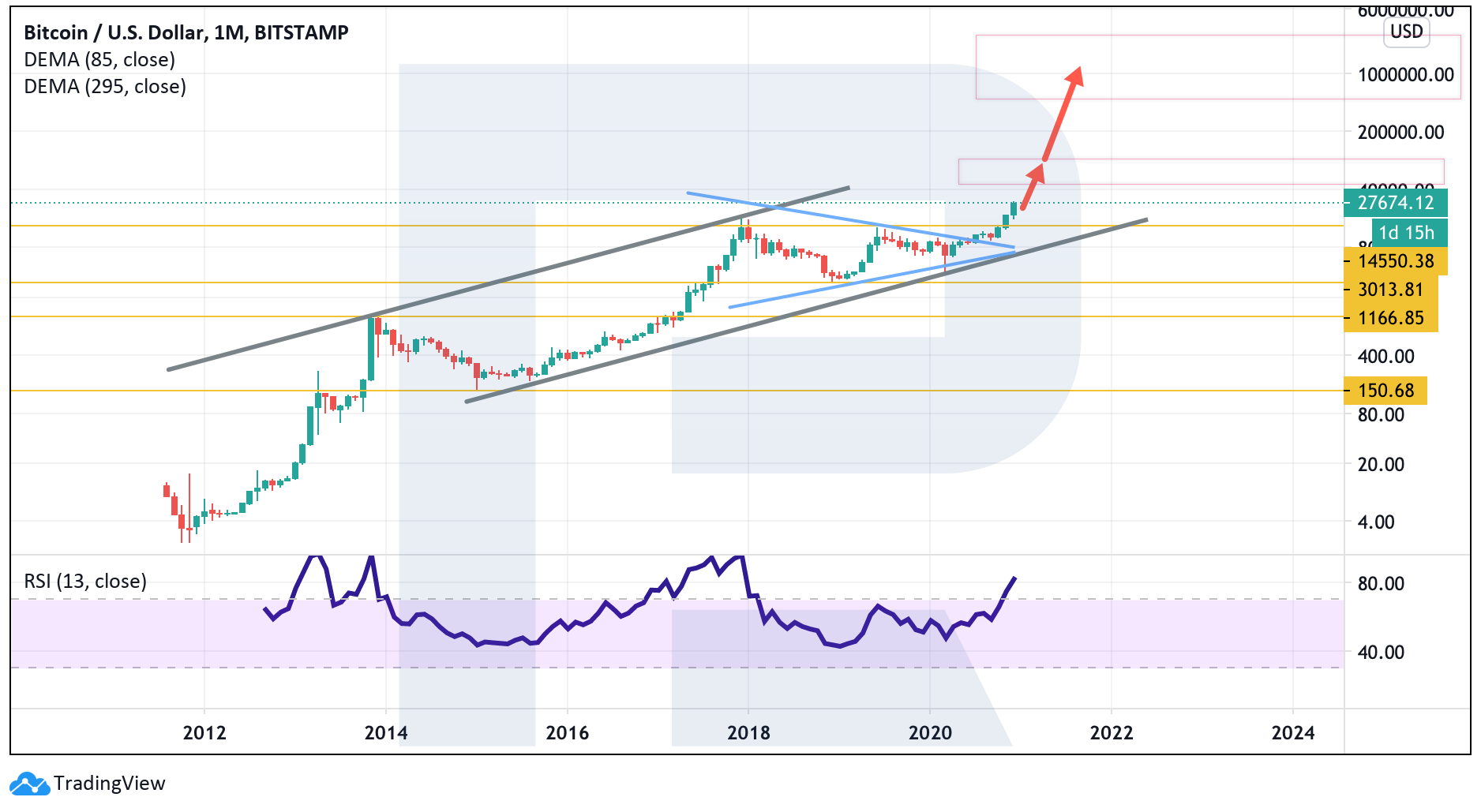 From the technical point of view, in the monthly chart Bitcoin stands good chances to continue moving upwards. The asset has broken the upside border of a Triangle pattern, while the target of the pattern materialization is at $50,000, that's why the leading cryptocurrency may easily continue growing in the very beginning of 2021. However, if we assume that the current structure is an ascending "1-1" pattern, then the upside target may be the area at $150,000-160,000. it is important to realize that this is just a forecast for longer timeframes, which may be accompanied by significant descending correction and require much time.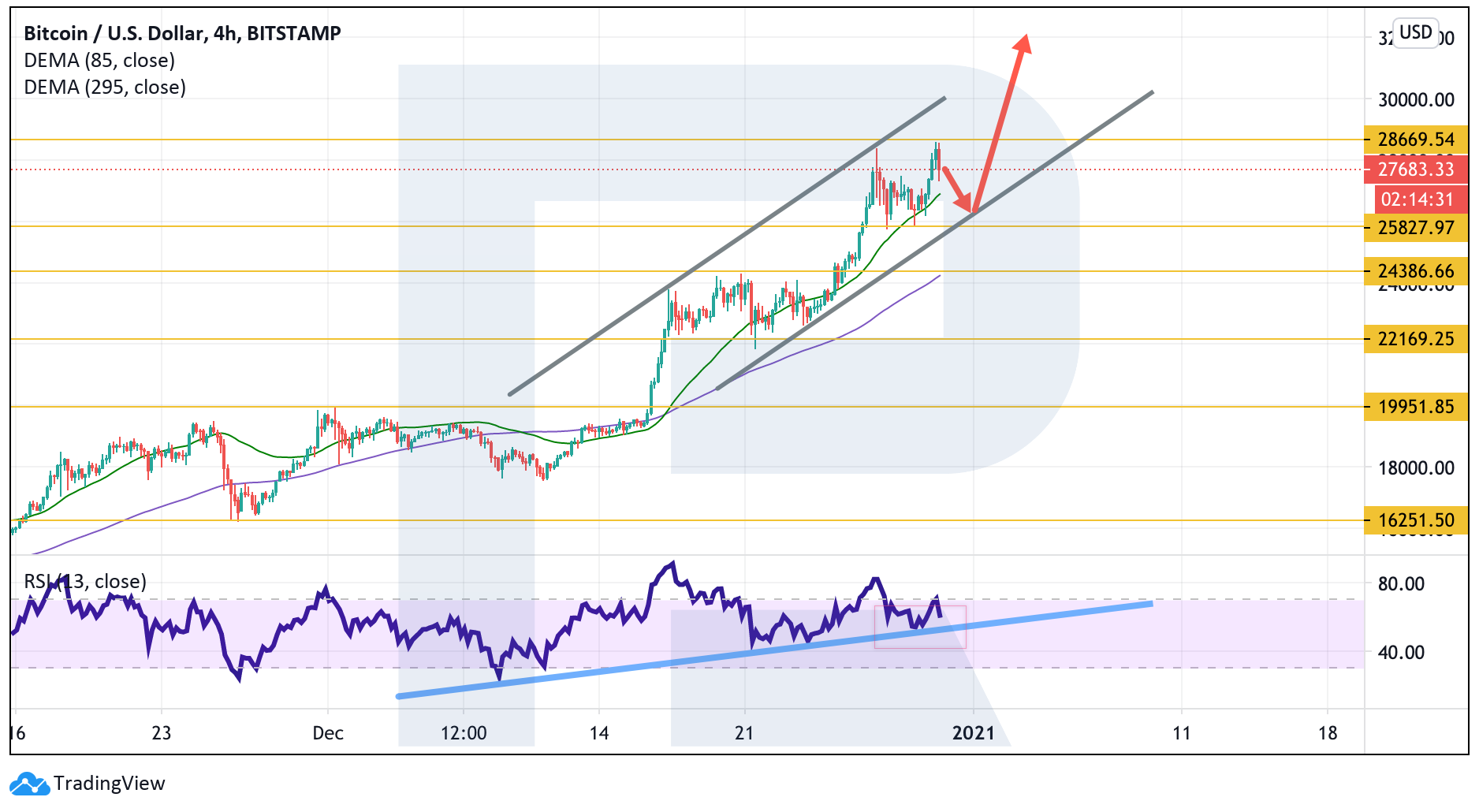 As we can see in the H4 chart, the asset has broken the horizontal correction to the upside while moving from $24,000 to $28,325. One shouldn't exclude the possibility that the current movement may do the same and push the price to $32,500. A signal in favor of a correction may be a breakout of the rising channel's downside border, which will indicate a slowdown in the bullish tendency and the correction towards $24,000. One should also pay attention to the RSI indicator, which hasn't been below 30 since the moment the pair broke $20,000. Simply put, investors don't let the asset start any significant corrections and still buy it at any slightest decline.
By Dmitriy Gurkovskiy, Chief Analyst at RoboForex
Disclaimer
Any predictions contained herein are based on the author's particular opinion. This analysis shall not be treated as trading advice. RoboForex shall not be held liable for the results of the trades arising from relying upon trading recommendations and reviews contained herein.
© 2020 CryptoDaily All Rights Reserved. This article is provided for informational purposes only. It is not offered or intended to be used as legal, tax, investment, financial, or other advice.