Bitmain founder Jihan Wu, one of the most influential names in the crypto space, will be offering perpetual swaps on Bitcoin Cash (BCH) through his platform, Bit.com, from February 1. Well-known Chinese blockchain journalist Colin Wu announced this news through Twitter: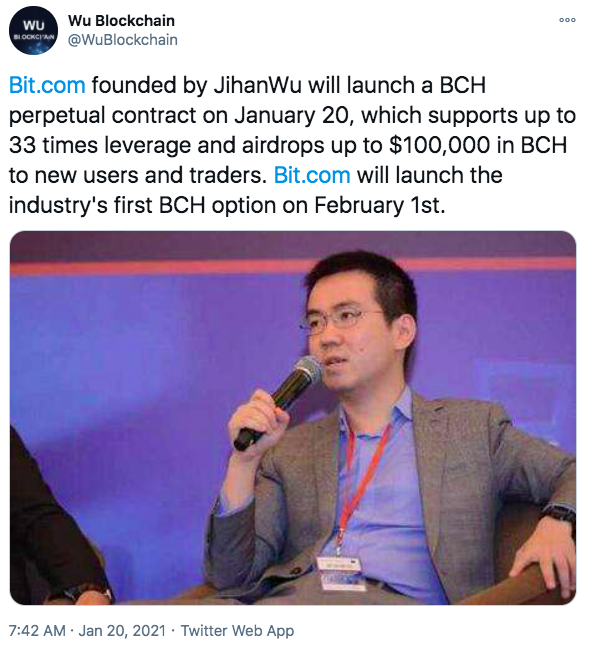 What Is Bit.com?
Bit.com is a secure and high-performing derivative exchange launched by Jihan Wu's Matrixport, a Seychelles-based integrated financial services firm. Matrixport is a spinoff from Bitmain Technologies, the world's largest mining equipment producer, and is backed by the likes of John Ge, Standard Crypto, IDG Capital, Lightspeed Venture Partners, Polychain, etc.
Details Of The Bitcoin Cash Option
Traders of the BCH/USDT positions will receive a tremendous leverage of up to 33x. New users (aka users who haven't used Bit.com products before January 20, 2021) will be eligible for the airdrop. The maximum bonus that one trader may receive is up to $10 in BCH equivalent. The campaign will be closed on January 27, and participants will receive their rewards within three days of the end of the campaign.
Jihan Wu and Bitmain's Colorful Past
Jihan Wu was instrumental in the 2017 Bitcoin fork which split the protocol into Bitcoin and Bitcoin Cash. In fact, ViaBTC, a Shenzhen-based mining company that Bitmain had invested in, was the one that orchestrated the fork. 
Wu once again made the headlines in mid-2020 when he and Bitmain co-founder Micree Zhan got entangled in an ugly power struggle. In October, Wu usurped Zhan as Bitmain's chairman, executive director, and legal representative, even though the latter is the majority shareholder. According to Wu, Zhan's tenure as the head was a failure. Zhan then countered this coup by filing a lawsuit in the Cayman Islands in December. 
The legal tussle eventually ended in December when Zhan agreed to pay Wu a $600 million compensation. Zhan retained control of the company's mining hardware operations, the Antpool mining pool, and Bitmain's mining farms in China. On the other hand, Wu took control of Btc.com's mining pool and overseas mining centers of Bitmain.
Disclaimer: This article is provided for informational purposes only. It is not offered or intended to be used as legal, tax, investment, financial, or other advice.