2021 has so far been an exciting year in the cryptocurrency market. We saw its capitalization surpassing $1 trillion for the first time in history.
And while a lot of it had to do with Bitcoin's surging price, over the last few days, it's becoming evident that altcoins are claiming their share, causing many to believe that we're in a state of the market known as "altcoin season."
Altcoin Season 2021: It's Just Beginning
An "altcoin season" is a term used to describe a market condition where bitcoin's price is being heavily outperformed by that of altcoins. This is directly reflected in the BTC dominance index, measuring Bitcoin's share relative to that of the entire cryptocurrency market.
According to the well-known trader, investor, and crypto proponent going by the Twitter handle Secrets of Crypto, the market is currently in phase 2 of an altcoin season.
We are now in Phase 2 of the Path to Altseason Chart. Ethereum has been outperforming Bitcoin for a month straight and is starting to go parabolic…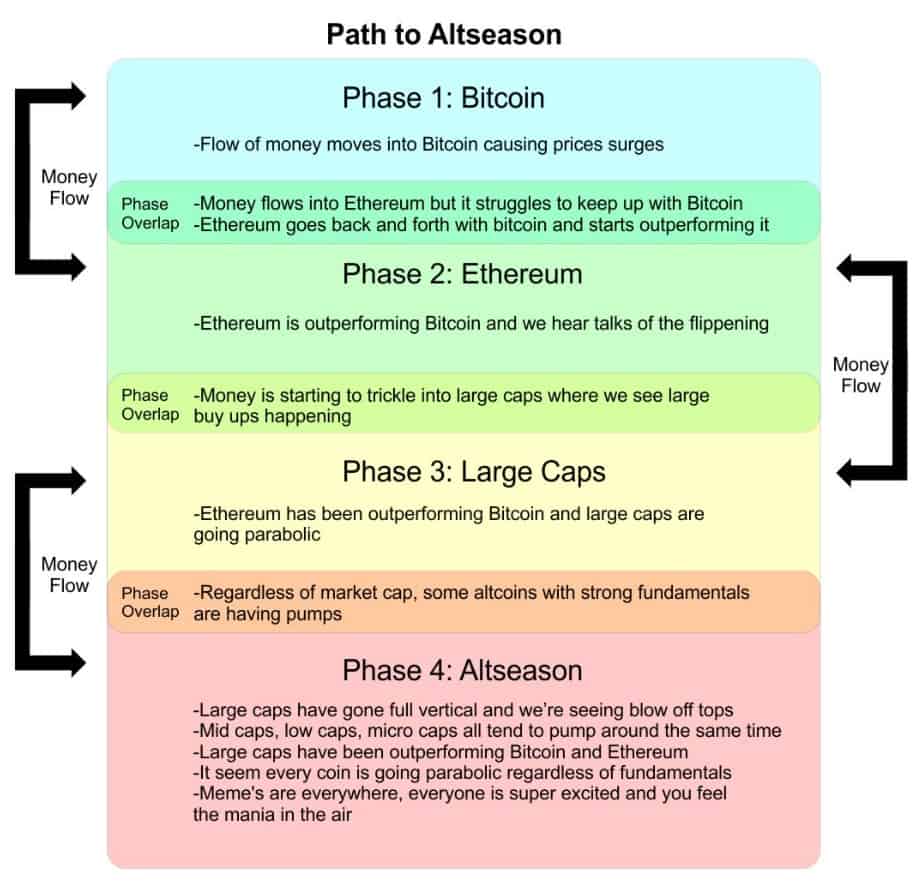 "Path to Altseason." Source: Twitter
The "Path to Altseason" is a graphic that describes the different phases of this market condition. Phase 1 is when there's a flow of money going into Bitcoin and, possibly, to Ethereum. What's important to note here is that during this phase, ETH struggles to keep up with Bitcoin, and it goes back and forth.
Phase two (where we're currently at, according to the analyst) is when Ethereum starts outperforming BTC.
Indeed, Ethereum has been outperforming bitcoin impressively over the course of this year. ETH is up around 87% YTD, while BTC is up just shy of 15%.
ETH vs. BTC. USD Value Performance. Source: TradingView
Another thing about the current Phase 2 of the "Path to Altseason" is that money starts flowing to other large-cap altcoins. We saw that too. As CryptoPotato recently reported, Chainlink's LINK charted a fresh all-time high, while Polkadot's DOT has also been performing impressively.
What's Next?
First things first, this is by no means investment advice, and it's important to note that history is not an indicator for future events.
According to the analyst's photo, however, the next phase will see large-caps going parabolic. Moreover, other altcoins with strong fundamentals should also see notable gains. During the last phase of the altcoin season, "large caps have gone full vertical, and we're seeing blow-off tops."
Other characteristics include booming smaller altcoins, as well as meme coins taking off as everyone is ecstatic about the market and "you feel the mania in the air."
Disclaimer
The views and opinions expressed in this article are solely those of the authors and do not reflect the views of Bitcoin Insider. Every investment and trading move involves risk - this is especially true for cryptocurrencies given their volatility. We strongly advise our readers to conduct their own research when making a decision.