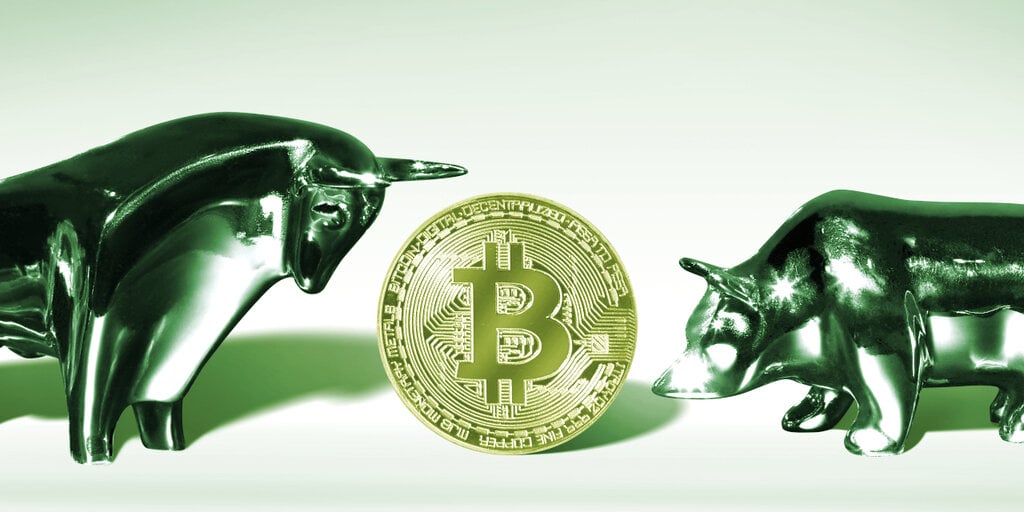 The world's leading cryptocurrency has been on a tear since the start of October, and is now eyeing new heights as the U.S. Securities and Exchange Commission (SEC) is reportedly set to approve the first Bitcoin exchange-traded fund (ETF).
According to a Bloomberg report late on Thursday which cites sources familiar with the matter, the SEC isn't likely to oppose the launch of a Bitcoin futures ETF. The current filings in question include applications from ProShares and Invesco, respectively.
Bitcoin Pops on Expectation of BTC Futures ETF Approval by SEC
The price of Bitcoin jumped from roughly $57,300 to $60,000 early Friday morning shortly after the news broke, according to CoinGecko. The last time Bitcoin traded above $60,000 was on April 18.
Despite correcting to $59,278 by press time, Bitcoin is still up 9.8% over the last week, remaining the best-performing asset among the five largest cryptocurrencies.
Bitcoin futures ETF preferred
Due to SEC chair Gary Gensler's previous statements, in which he hinted that he'd be more inclined to see an ETF tied to Bitcoin futures, rather than the one tied to the actual asset, the former are currently seen as the most viable way to launch a regulated crypto investment vehicle.
Some high-profile figures within the industry, however, are not as enthusiastic about the prospect of Bitcoin futures ETFs.
"People don't want Bitcoin futures exposure, they want physical Bitcoin exposure," Bloomberg ETF research analyst James Seyffart told Decrypt in August.
Bitcoin ETF Hopefuls Were Rattled by SEC Chair Comments. Here's Why
According to Matt Hougan, the chief investment officer at Bitwise Asset Management, a futures-based ETF can be "useful for certain investors, but not ideal" as it comes with up to 12% extra fees on the product.
In addition, as Hougan wrote in a Twitter thread on Thursday, there's about a 15% dilution due to the current rules that limit the percentage of futures ETFs can hold.
"Most [futures ETFs] aim for 85%. So, 15% is other stuff, even bonds!" he said.
2/ First, why do we think BTC is better than futures?

A. Costs: It could cost over 5-10% per year to roll the futures ("contango"). Plus another 1-2% in fees.

B. Dilution: ETFs can't hold 100% BTC futures due to rules. Most aim for 85%. So, 15% is other stuff, even bonds!

...

— Matt Hougan (@Matt_Hougan) October 14, 2021
Hougan believes that "a direct BTC ETF avoids all that," and this belief is reflected in a new ETF application Bitwise submitted on Thursday, two years after the firm's original filing was rejected by the SEC.
This latest filing, as Hougan stressed, is a separate one from the Bitcoin futures ETF application submitted by Bitwise last month.