Crypto.com's CRO is up over 31% currently trading at $0.37 after setting a new all time high earlier of $0.385. Why is the CRO price rising and what is all the hype about, let's check it out!
What is Crypto COM coin?
Crypto Com coin is an ERC-20 Proof-of-Stake token native to the Crypto.com exchange.
Most of you are probably familiar with native exchange tokens like BNB and KuCoin Token, which are the native tokens for the Binance and KuCoin exchange respectively. CRO is no different in that regard, it incentivizes trading on the platform and increases the exchange's liquidity.
You can almost think of a native exchange token as the stock of that particular exchange. If the underlying exchange is performing well, you can except the native token price to go up. On the other hand, if the exchange is facing issues the native token is bound to show bearish momentum.
Why Is CRO Price Rising?
While there are no major announcement from the Crypto.com's team that significantly correlate with the recent CRO price rise, there is a definite increase in the app's user traffic.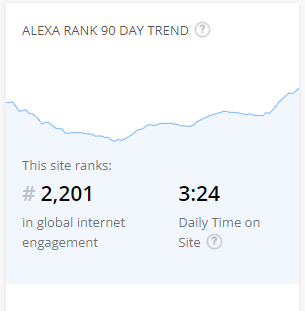 Looking at Crypto.com's recent Alexa rankings we can see a major uptick in traffic starting at the beginning of this month. This means more people are not only signing up to the exchange, but are also finding out about crypto in the first place.
If you've been using TikTok or YouTube you might have noticed the aggressive marketing campaign that Crypto.com is currently running. In fact, last week the CryptoCom youtube channel released a commerical with Matt Damon!
A well executed marketing campaign is the key to success in crypto space and it looks like Crypto.com has done exactly that.
Is Crypto Com a Good Investment?
Investing in exchange's native token is a good idea if you're dealing with a reputable exchange. In this case, Crypto.com is extremely reputable.
Crypto.com started as Monaco Technologies GmbH in 2016 and was rebranded in 2018 to Crypto.com. It now has millions of users and even issues its own crypto credit card. It's a fully registered company in Hong Kong, China and has been running for years with no issues.
Are Coins Safe on Crypto Com?
Crypto.com not only has over $750m in theft insurance, but also stores its funds in cold storage using Ledger Vault. According to their website:
"Crypto.com has secured a US $100M direct insurance policy led by Arch Underwriting at Lloyd's Syndicate 2012. This is the largest coverage that Crypto.com has secured for its cold storage assets on custodial partner Ledger Vault.

The new policy brings Crypto.com's total cryptocurrency insurance to $750M, including direct and indirect coverage via custodians."
CRO Price Predictions
Looking at the 90 day chart on CoinGecko, we can see that the CRO price is exhibiting a parabolic rise. We can also see a massive increase in trading volume which suggests this market still has room for growth.
However, since CRO just recently hit an all time high if the current support of $0.35 doesn't hold we can expect a rebound to as low as $0.3.
Overall CRO is on a positive trajectory so for the long term holders these price fluctuations are nothing but good news. While this isn't financial advice, if you decide to buy into CRO right now expect to wait a few weeks / months if you're looking to get a sizeable return on your investment.
Follow us on twitter @themerklehash to stay up to date with the latest cryptocurrency news!
Originally Published on The VR Soldier
Disclaimer
The views and opinions expressed in this article are solely those of the authors and do not reflect the views of Bitcoin Insider. Every investment and trading move involves risk - this is especially true for cryptocurrencies given their volatility. We strongly advise our readers to conduct their own research when making a decision.