Jurrien Timmer – the Director of Global Macro at Fidelity – recently claimed that Bitcoin may be "cheaper than it looks." An analysis of certain on-chain data metrics suggests that the coin's true valuation may be significantly higher than its current price.
Valuation VS Price
In a tweet on late Tuesday, Timmer shared a chart of Bitcoin's price/network ratio, plotted against its USD price. The price/network ratio is calculated by dividing Bitcoin's price by the total volume transmitted on-chain. This is also sometimes called the NVT ratio.
A high NVT ratio can indicate that an asset is overvalued, whereas a low NVT ratio can mean its undervalued. As the director explained, Bitcoin's NVT ratio has now returned to levels from the 2013 and 2017 bull markets, whereas the price has only returned to late 2020 levels.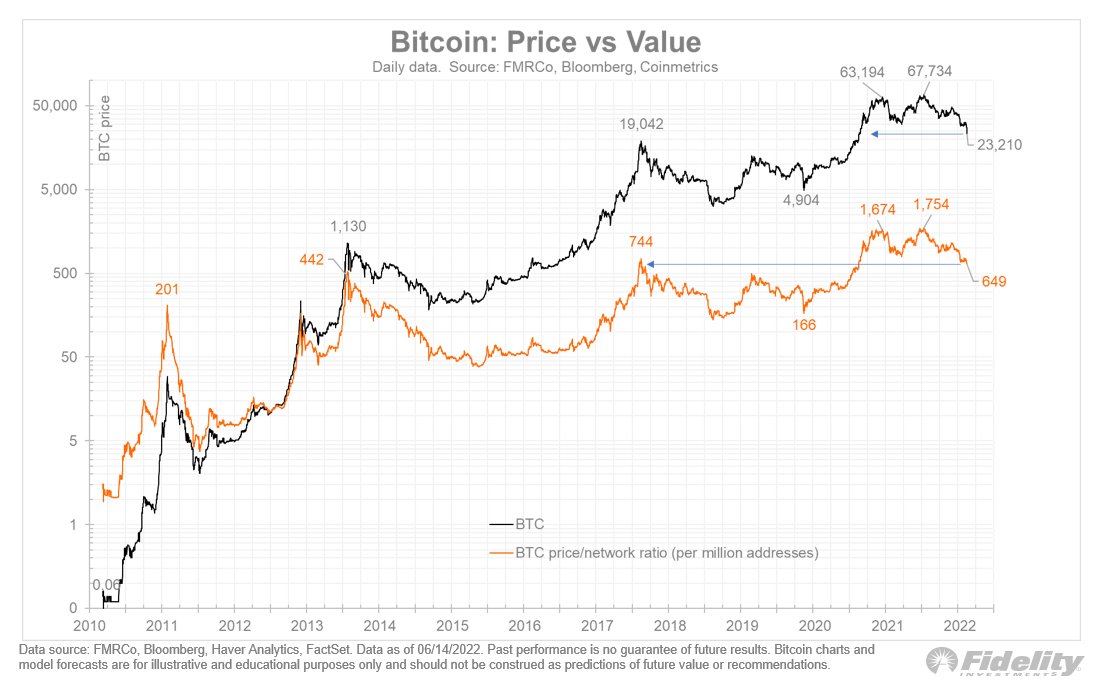 Bitcoin NVT vs Price. Source: Fidelity
"Valuation is often more important than price," he added.
The director also included a chart of prices plotted against non-zero Bitcoin addresses. The price has now deviated below the average network address growth curve.
Finally, a measure of Bitcoin's dormancy flow indicated that the asset is technically oversold. Dormancy flow looks at the average number of  "coin-days" destroyed with each transaction – in other words, how long coins are staying dormant before moving again.
The metric has now drifted to its lowest point since 2011, meaning that coins are being sold relatively fast after being transferred.
Fidelity: Bullish During the Bear
Fidelity is known for being highly bullish on Bitcoin long-term. The asset manager recently announced that it would allow customers to include Bitcoin in their 401(k) retirement accounts. However, they quickly came under scrutiny from politicians for the move.
In a report in January, Fidelity argued that Bitcoin is different from all other cryptos. Whereas it views Bitcoin as a monetary good, it finds other assets like Ether more similar to venture investments.
In the short term, however, the crypto market has taken a thorough thrashing – as has the industry surrounding it. Rampant macro fears contributed to a massive Bitcoin selloff over the weekend, causing cascading liquidations for those using Bitcoin-collateralized loans.
One such group facing liquidation fears is Celsius – a crypto lending platform with over $500 million in Bitcoin sitting as collateral for a loan with Oasis. The company has been forced to freeze all customer withdrawals while they hastily locate liquidity to finance the loan, including thousands of Wrapped Bitcoin (WBTC).
Disclaimer
The views and opinions expressed in this article are solely those of the authors and do not reflect the views of Bitcoin Insider. Every investment and trading move involves risk - this is especially true for cryptocurrencies given their volatility. We strongly advise our readers to conduct their own research when making a decision.