Crypto is flying high this year, despite the strong headwinds in the bear market.
Vueling S.A., a low-cost Spanish airline headquartered in the Greater Barcelona area, has announced that it will begin taking 13 different cryptocurrencies as payment for its flying services beginning in 2019.
Vueling is partnering with BitPay on a deal that will allow customers to pay using a variety of cryptocurrencies, including Bitcoin, Ethereum, Dogecoin, Shiba Inu, Bitcoin Cash, Litecoin, and Wrapped Bitcoin, to name a few.
BitPay is the largest bitcoin payment processor in the world. In the past decade, the company claims to have processed more than $5 billion in blockchain-based payments and has operations in Europe, North America, and South America.
Suggested Reading | Cryptocurrencies Fuel Increase In High Net Worth Population, Survey Shows
Vueling And Crypto Take Off Amid Market Turbulence
Vueling will be the first low-cost airline in Europe to accept bitcoin as payment when it becomes available. The International Airlines Group, an Anglo-Spanish conglomerate that owns Vueling, is headquartered in London, England.
This payment method will make use of the travel payment solution Universal Air Travel Plan (UATP). In general, UATP provides payment options to airlines around the world.
Crypto total market cap at $885 billion on the daily chart | Source: TradingView.com
In a statement, UATP said:
"Ticket pricing will be presented in Euros, and users will be able to choose between 13 different cryptocurrencies and more than 100 wallets to pay for their flights."
In order to reduce instances of fraud associated with this unique payment method, Vueling has disclosed that the transaction would be a push payment as opposed to a pull payment. This implies that users would pay straight from their digital currency wallets and initiate the transaction themselves.
Jess Monzó, manager of Distribution Strategy and Alliances at Vueling, stated:
"Vueling strengthens its status as a digital airline with this deal. We are glad to have found in BitPay the ideal partner to provide our consumers with the most secure and dependable cryptocurrency transaction capabilities."
Other Major Airlines Adopt Bitcoin Payment System
Vueling is neither the first nor the last airline to enter the cryptocurrency industry. In 2014, AirBaltic partnered with BitPay to become the first airline in the world to take BTC.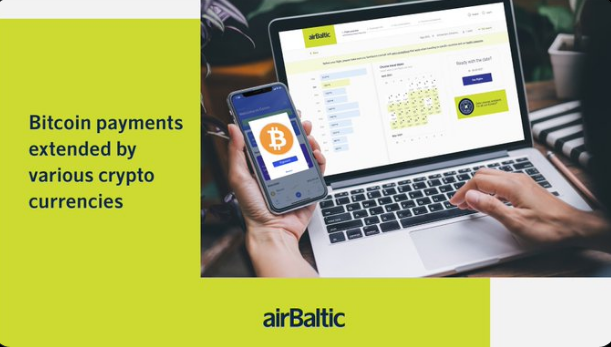 Image: Twitter
Simple Flying reported earlier this year on Emirates' intentions to accept Bitcoin as payment, while certain airports, notably Brisbane Airport in Australia and Caracas Airport in Venezuela, already accept bitcoin payments.
Alternative Airlines, a travel firm headquartered in the United Kingdom, has for some time provided its international passengers the option to pay for flight tickets using Bitcoin via Utrust or crypto.com.
Suggested Reading | Web3 Still 'Mega-Mega Bullish' Despite Crypto Mayhem, Polygon Co-Founder Says
Featured image from Bitcoin Magazine, chart from TradingView.com
Disclaimer
The views and opinions expressed in this article are solely those of the authors and do not reflect the views of Bitcoin Insider. Every investment and trading move involves risk - this is especially true for cryptocurrencies given their volatility. We strongly advise our readers to conduct their own research when making a decision.