As it typically happens during the weekend, the trading volumes have gone down, which results in little-to-no price movements for BTC.
Most altcoins are in a similar position, with a few exceptions. Dogecoin is among them, following a 6% daily increase.
Bitcoin Boring at $17K
Last weekend was quite dull in terms of price actions, and BTC spent most of it around $16,500. Monday started with a price drop towards $16,000, but the bulls intercepted the move and didn't allow any further declines.
More volatility was expected mid-week when the US Fed Chair Jerome Powell announced the latest interest rate hike, as well as the country's job report, which came out on Friday.
However, both events didn't deliver a lot of price action, unlike previous occasions. Bitcoin remained relatively calm at around $17,000, except for a price pump above that level to chart a two-week high.
As the current weekend approached and arrived, BTC stood at $17,000 and has remained there. The trading volumes are down once more. Bitcoin's market cap is still under $330 billion, while its dominance over the alts is at 38.3%.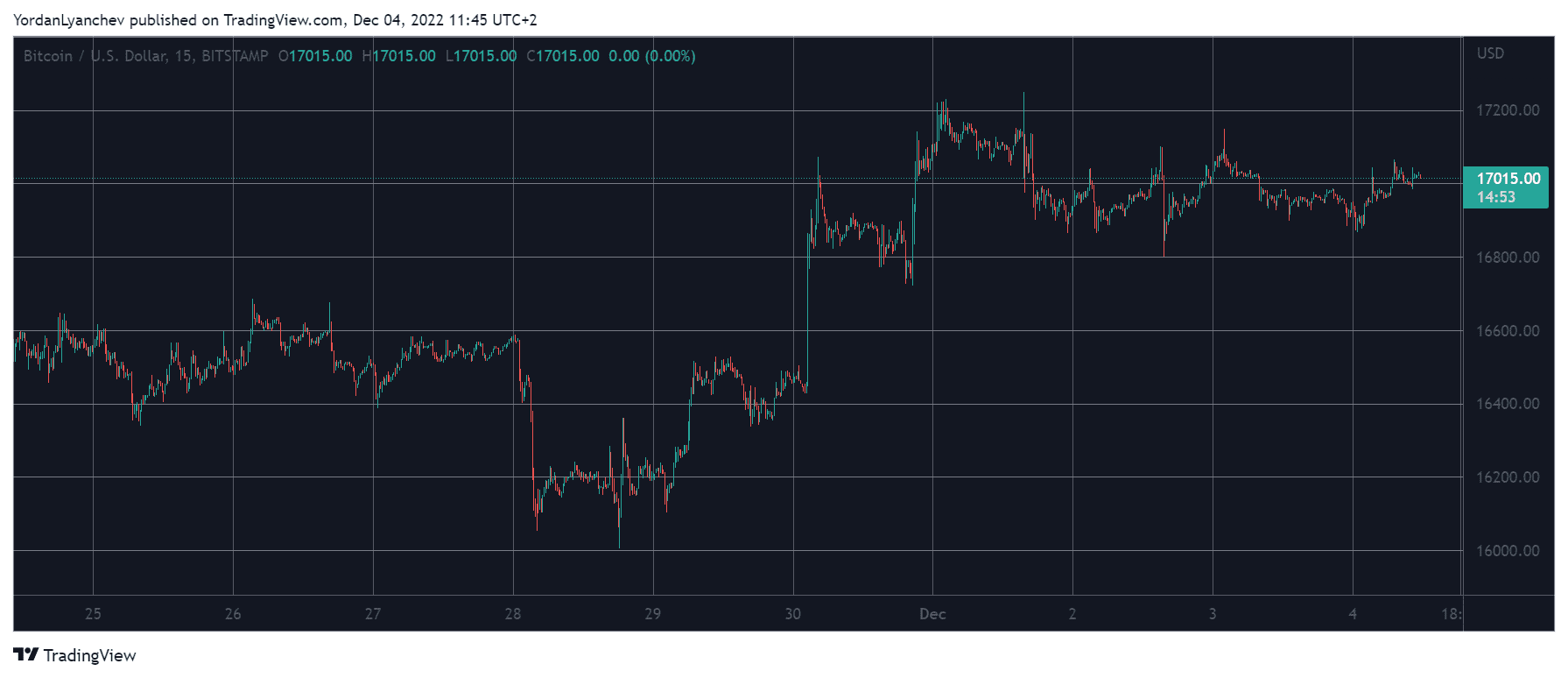 BTCUSD. Source: TradingView
DOGE Jumps 6%
Most of the altcoins have mimicked BTC's performance during the weekend, with a lack of substantial movements.
Ethereum has lost around 1% of value in the past 24 hours and has dumped towards $1,250. Binance Coin, Ripple, Cardano, Polygon, Polkadot, Shiba Inu, Litecoin, and OKB are all pretty much at the same levels as they were yesterday.
Dogecoin is the only exception from the larger-cap alts. The OG memecoin is up by 6% in a day and trades above $0.1.
CELO and NEXO have also gained impressive percentages daily, up by 16% and 10%, respectively.
Overall, though, the crypto market cap has remained at the same place at $855 billion on CoinMarketCap.
Cryptocurrency Market Overview. Source: Quantify Crypto
The post DOGE Soars 6%, BTC Stuck at $17K Amid Low Trading Volumes (Weekend Watch) appeared first on CryptoPotato.
Disclaimer
The views and opinions expressed in this article are solely those of the authors and do not reflect the views of Bitcoin Insider. Every investment and trading move involves risk - this is especially true for cryptocurrencies given their volatility. We strongly advise our readers to conduct their own research when making a decision.