As rumors about Argo's possible bankruptcy continue to spread, more information about what caused the company's troubles are unraveling.
The U.S.-based Bitcoin mining company has seen its shares plummet in the second half of the year as it struggled to keep a positive cash flow. In October, Argo failed to secure a $27 million strategic investment that was supposed to improve its liquidity position.
At the time, the company said it was continuing to look for a solution to its cash problem, but noted that it could fail to resolve its issues. At the beginning of December, Argo accidentally revealed a petition for bankruptcy.
A screenshot of a special announcement for Argo's stakeholders was reportedly leaked, showing that the company might be preparing to file for bankruptcy.
According to a recent report, Argo's failure to secure a fixed-price PPA earlier this year could be what caused its problems.
Jaran Mellerud, a research analyst with the Hashrate Index, noted that Argo stated they had access to electricity priced at $0.02 per kWh. The number was reportedly shared in a March 2022 investor presentation.
This is from Argo's investor presentation from March 2022. Their stated electricity price of $0.02 per kWh grew to $0.06 per kWh. pic.twitter.com/dcObBxAj1n

— Jaran Mellerud (@JMellerud) December 12, 2022
However, analyzing Argo's November production report showed that the electricity price the company pays is actually $0.06 per kWh. The actual electricity is derived from Argo's reported production margin of 29%.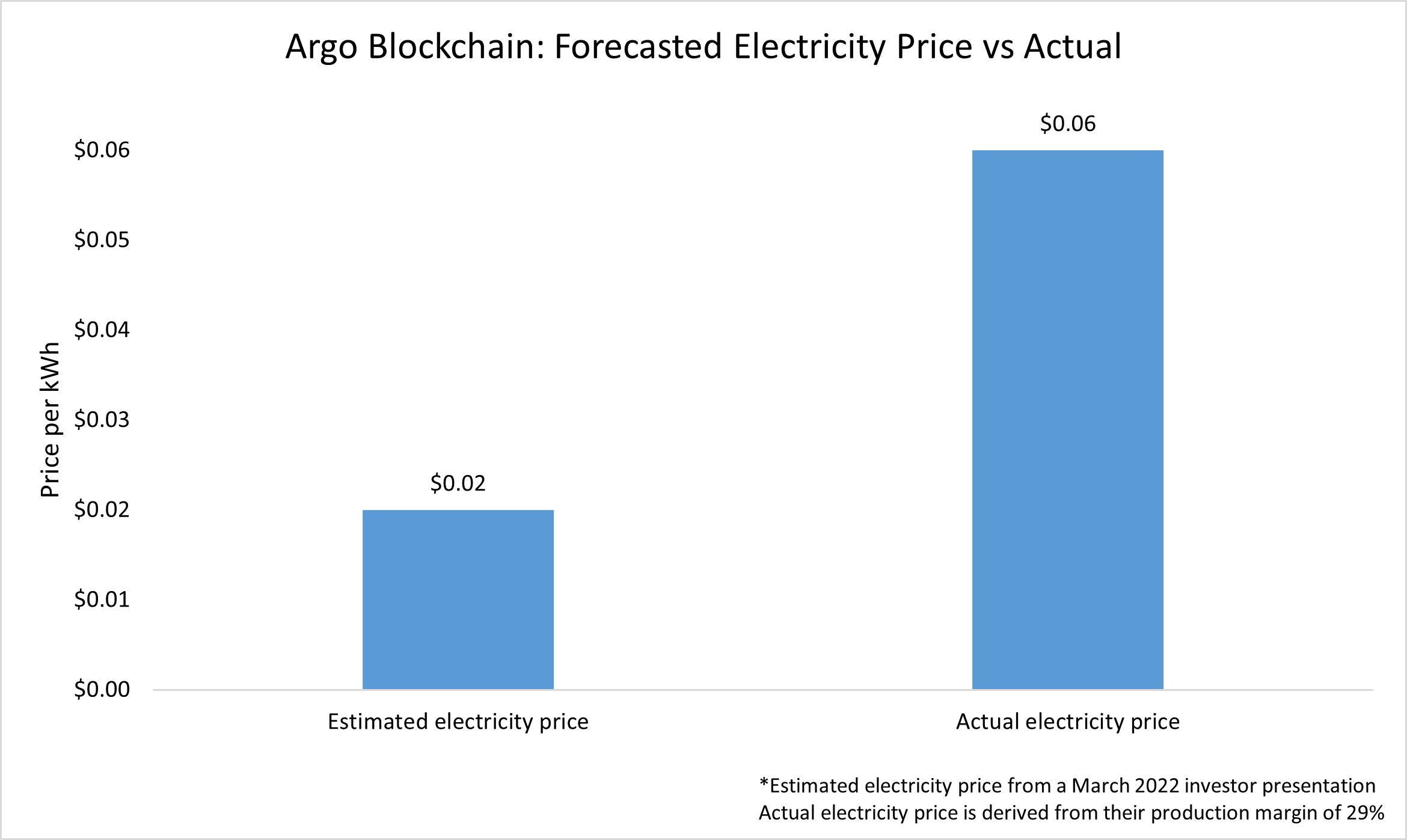 Chart showing the estimated electricity price and the actual electricity price Argo paid per kWh in 2022 (Source:
Jaran Mellerud
)
The threefold increase in electricity cost led to a significantly higher increase in production cost. According to the report, Argo's electricity cost of mining 1 BTC is around $12,400. If the company paid $0.02 per kWh as it stated in its investor pitch, the cost of mining 1 BTC would be around $4,000.
Increasing the electricity price from $0.02 to $0.06 per kWh leads to a massive increase in production cost.

Argo's electricity cost of mining 1 BTC is $12.4k. It would only be $4k if they paid $0.02 per kWh. pic.twitter.com/Vm4vhHs1eH

— Jaran Mellerud (@JMellerud) December 12, 2022
The majority of Argo's mining operation is located in Texas. The Electric Reliability Council of Texas (ERCOT), the organization operating Texas's electrical grid, has seen its electricity price skyrocket since the beginning of the summer. This meant that the $0.02 per kWh price Argo touted to investors was short-lived.
Bitcoin miners are known to secure fixed-price power purchase agreements (PPAs), a contract between energy buyers and sellers that guarantees a fixed price for every kilowatt of energy. These contracts provide Bitcoin miners with much-needed price stability as they remove one of the largest variables from their production costs.
It now seems that Argo failed to secure a fixed-price PPA when expanding to Texas and experienced massive losses when the price of electricity began increasing.
The post Unpredictable electricity cost could have caused Argo's troubles appeared first on CryptoSlate.
Disclaimer
The views and opinions expressed in this article are solely those of the authors and do not reflect the views of Bitcoin Insider. Every investment and trading move involves risk - this is especially true for cryptocurrencies given their volatility. We strongly advise our readers to conduct their own research when making a decision.