FTX founder Sam Bankman-Fried once gave out lots of money to people that many wondered where it all came from. These people included powerful figures in public service and the regular ones, not to mention those who already have the wherewithal in the private sector.
We're talking about hundreds of millions of dollars for giveaways. Was it bribe money? Gift? Or, for a good cause like charity?
Who cares?
He just showered politicos with tens of millions of dollars in campaign contributions. The recipients just welcomed it with open arms and shut up.
Fast forward to 2023. The party's over. And, FTX wants all of the money back.
FTX Wants The Benjamins Back
FTX is sending "confidential letters" to former donor recipients asking for the donated funds to be returned, the bankrupt crypto exchange said in a press release Sunday.
"FTX Debtors are sending confidential messages to political figures, political action funds, and other recipients of contributions that were made by or at the direction of the FTX Debtors, Samuel Bankman-Fried or other officers or principals of the FTX Debtors," the press release read in part.
The recipients have until February 28, 2023 to "return such funds" to the FTX Debtors, according to the announcement. The move comes after FTX issued a call for fund recipients to repay the money voluntarily in December.
Previously, the same creditors calculated that Bankman-Fried donated $93 million to political causes. According to the press release, if the monies are not returned freely, the debtors "retain the right" to pursue legal action to compel payback, plus interest.
Clawing Back The Political Donations
Bankman-Fried, the 30-year-old former CEO of FTX, was the Democrats' second-largest donor between 2020 and 2022, providing more than $37 million to the party's electoral campaigns.
Open Secrets showed that FTX Digital Markets Co-CEO Ryan Salame contributed roughly $20 million to Republican candidates throughout the same period.
Now, here's a tweet by "unusual_whales" with an image of the list of recipients of the donated money:
BREAKING: FTX is sending letters to politicians who received donations from FTX to return the money they received.

There was not a list of the politicians they gave money to, and the amounts.

Until now.

See it here:https://t.co/uK8CTsLugJ pic.twitter.com/JnN2j8VFDL

— unusual_whales (@unusual_whales) February 5, 2023
Twitter use Kane Vato commented on the list by saying:
Another Twitter user, DrinkWater, pitched in: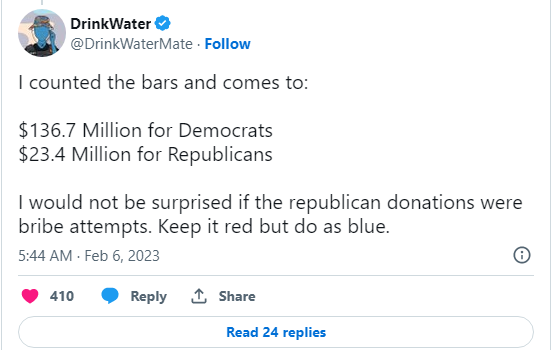 FTX has also attempted to retrieve the millions of dollars that the cryptocurrency exchange and Bankman-Fried donated to charity, but this may be difficult given that some of the funds have already been spent.
FTX has apparently been attempting to reclaim money it donated to Florida students as scholarships, in addition to the contributions it has received from politicians.
The federal government asserts that Bankman-Fried misused consumer money for campaign contributions, real estate purchases, and venture capital investments. He has maintained his innocence despite numerous counts of fraud and conspiracy charges.
Bankman-Fried pled not guilty to allegations of fraud, conspiracy, campaign finance law violations, and money laundering in a New York federal court last month.
Bankman-Fried is currently under house arrest in his parents' home in California, with a digital monitor strapped on his ankle.
If convicted of any one of the eight counts for which he has been accused, he faces life in federal prison without the option of supervised release.
Meanwhile, John Ray III, the new CEO of FTX, stated that the exchange can be restored. Despite the company's collapse, he hasn't given up hope for its recovery and has done all possible to breathe new life into the failed business.
Featured image from Lawyer Monthly
Disclaimer
The views and opinions expressed in this article are solely those of the authors and do not reflect the views of Bitcoin Insider. Every investment and trading move involves risk - this is especially true for cryptocurrencies given their volatility. We strongly advise our readers to conduct their own research when making a decision.