Previous CryptoSlate analysis revealed that the crypto industry is slowly getting out of the bear market. However, the transition from a bear market to a bull market is often a tumultuous and volatile process.
Long-term holders (LTH) are the most important factors in this part of the cycle, as their behavior determines local bottoms and fuels future price rallies.
As Bitcoin (BTC) surged past $28,000, LTHs rushed to sell some of their holdings for the first time in almost a year. The previous few months were spent in heavy accumulation, with LTHs increasing their holdings continuously from November 2022 until the end of February. The slight decrease in their supply that began in February saw an almost vertical drop between March 15 and March 17 — when LTHs sold off approximately 43,543 BTC.
Graph showing the LTH BTC supply from January 2022 to March 2023 (Source: Glassnode)
This is the first time since May 2022 that long-term holders spent some of their BTC in profit.
Bitcoin's Spent Output Profit Ratio (SOPR) — a ratio that shows the profitability of spent BTC — reached 1.02 on March 16. It surged past 1.14 again on March 18 and stood at 0.98 at press time. A SOPR value higher than 1 implies that the coins spent on that day are, on average, selling at a profit.
Graph showing the Bitcoin LTH SOPR from January 2020 to March 2023 (Source: Glassnode)
CryptoSlate analysis also showed that the long-term holder spending cost basis has almost met Bitcoin's spot price. On March 20, LTH spending cost basis reached just over $29,000 — while BTC reached $28,400.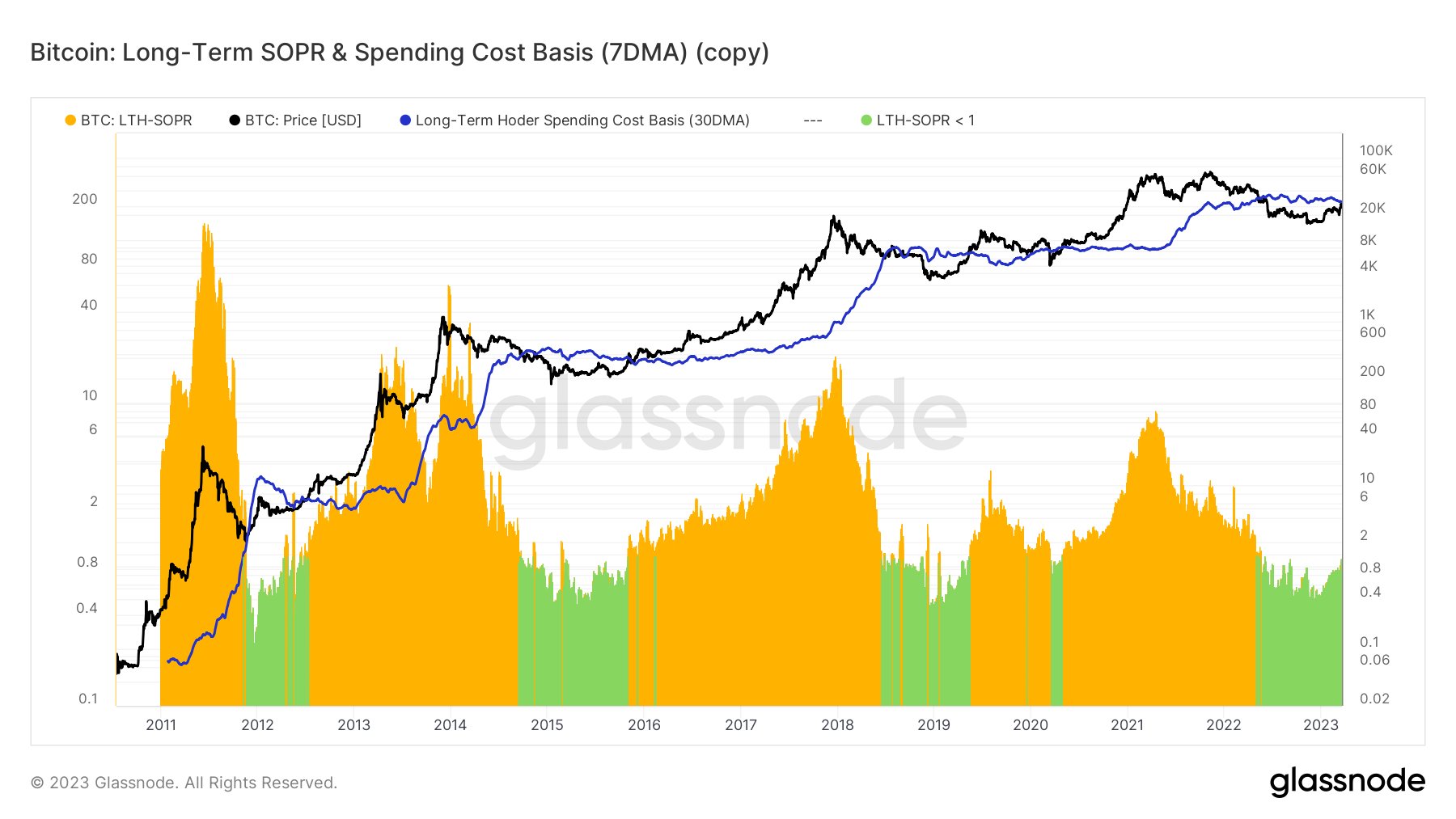 Graph showing Bitcoin LTH SOPR and spending cost basis from 2011 to 2023 (Source: Glassnode)
This is the first time since January 2020 that long-term holders sold their BTC to lock in profits. All LTH selloffs since then have been a result of capitulation. This behavior is seen in the increase in transfer volume from LTHs to exchange addresses.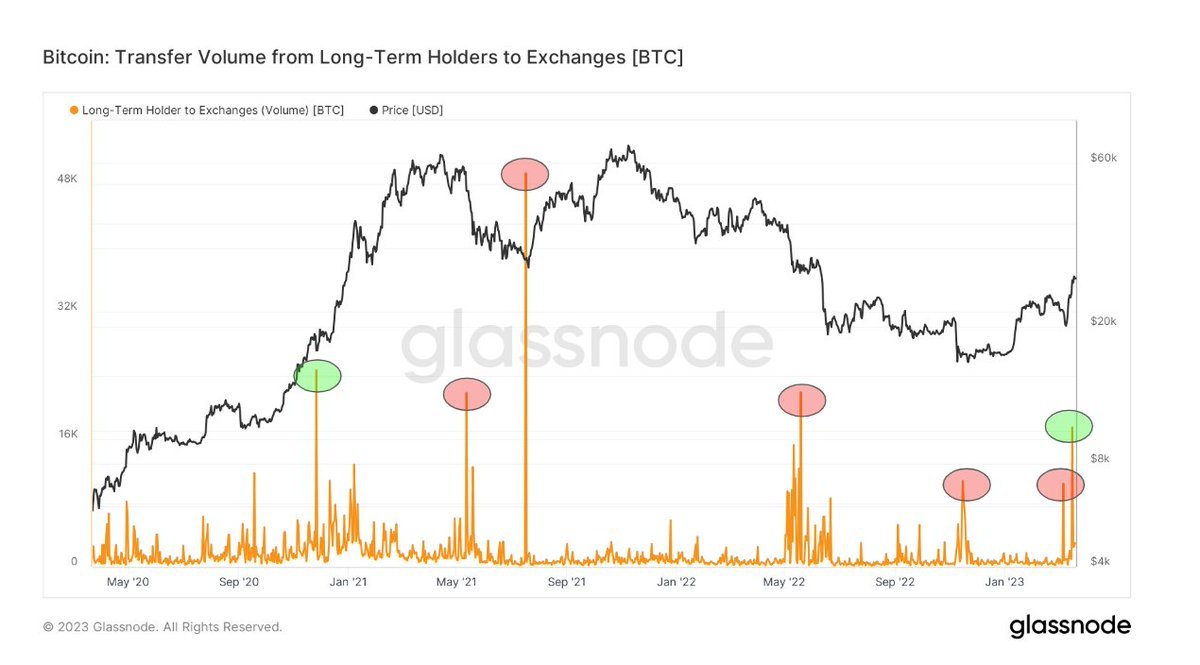 Graph showing Bitcoin's transfer volume from long-term holders to exchanges from January 2020 to March 2023 (Source:
Glassnode
)
If LTHs continue to sell their BTC, we could see a price pullback in the coming weeks. The market tends to react with volatility whenever long-term holder supply decreases, which could erase most of the gains Bitcoin made since the ongoing banking crisis began.
The post Bitcoin long-term holders locking in profits could lead to BTC price pullback appeared first on CryptoSlate.
Disclaimer
The views and opinions expressed in this article are solely those of the authors and do not reflect the views of Bitcoin Insider. Every investment and trading move involves risk - this is especially true for cryptocurrencies given their volatility. We strongly advise our readers to conduct their own research when making a decision.