Crypto enthusiasts may have reason to celebrate as United States Rep. Warren Davidson announced plans to introduce legislation that could potentially lead to the removal of Gary Gensler, the chair of the Securities and Exchange Commission. 
Davidson's move comes as a response to what he perceives as Gensler's overreach in the digital currency space, with the SEC's proposed redefinition of an "exchange" drawing widespread criticism. 
As tensions mount between regulators and the bitcoin community, the fate of Gensler and the future of crypto regulation hangs in the balance.

Congressman Seeks To Hold SEC Accountable For Rule Changes
Gensler has come under fire for his proposal to redefine the term "exchange". In a meeting held on April 14, Gensler defended the proposed amendments, stating that they could bring more brokers under regulatory scrutiny and "modernize" rules that define an exchange, which could ultimately benefit investors and markets.
Yep. To correct a long series of abuses, I am introducing legislation that removes the Chairman of the Securities and Exchange Commission and replaces the role with an Executive Director that reports to the Board (where authority resides). Former Chairs of the SEC are ineligible. https://t.co/VBnkgt8bhM

— Warren Davidson (@WarrenDavidson) April 16, 2023
However, Davidson took issue with Gensler's proposal and took to Twitter to announce his intention to introduce legislation that would remove Gensler from his position. Davidson's proposal suggests replacing Gensler's position with an executive director who would report to the board, and explicitly stated that former SEC chairs would be ineligible for the role.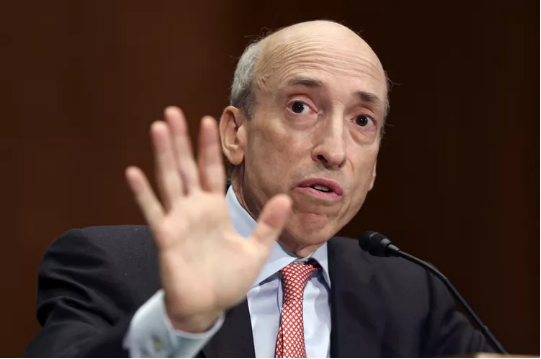 SEC Regulatory Actions Draw Criticisms From Crypto Community
The SEC has been actively pursuing enforcement actions against several bitcoin exchanges and platforms for allegedly violating securities laws. However, some in the crypto community have accused the SEC of being overly aggressive and stifling innovation in the industry.
In response to the SEC's actions, several prominent figures in the digital currency industry have spoken out against the agency, including SEC commissioner Hester Peirce, whom the community has called its "Crypto Mom."
In addition to ironing this t-shirt (which republishes code from a comment letter), will I need to register as an exchange before wearing it? "It depends," per the SEC's latest release: https://t.co/mARz8FzNZD pic.twitter.com/xD7Lx2kJE6

— Hester Peirce (@HesterPeirce) April 14, 2023
Peirce: SEC Refuses To Adopt Regulations For New Tech
Peirce has voiced her concerns about the agency's approach to regulating new technologies in the digital currency industry, accusing the SEC of expanding its regulatory reach without addressing real problems and refusing to adopt existing regulations to accommodate new technologies and business models.
Peirce also criticized the SEC's use of the "notice-and-comment rulemaking process" as a way to exert control over the industry. She argued that this process, which allows the public to comment on proposed regulations, has been used as a threat to dissuade companies from innovating in the space.
According to the commissioner, the SEC's lack of understanding of the crypto industry has led to ambiguity and confusion in its proposed rule changes. She suggested that the agency should have issued a concept release to gather feedback and better understand the industry before proposing new regulations. 
Peirce's comments reflect a growing sentiment among some in the crypto community that the SEC is stifling innovation and hindering the growth of the industry.
-Featured image from Jeffrey Martin/Flickr.Com
Disclaimer
The views and opinions expressed in this article are solely those of the authors and do not reflect the views of Bitcoin Insider. Every investment and trading move involves risk - this is especially true for cryptocurrencies given their volatility. We strongly advise our readers to conduct their own research when making a decision.