The SEC is suing Coinbase and Binance, in yet another scandal in the crypto industry 
Bitcoin price remains unfazed
A bullish breakout might be triggered by the Fed not hiking the funds rate again 
The cryptocurrency industry faces, yet again, another test of confidence. The Securities and Exchange Commission (SEC) announced that it was suing Coinbase and Binance in a move that scared cryptocurrency traders operating on the two exchanges. 
But what had the potential of triggering a bearish move in the main cryptocurrency markets turned out to have zero impact. In particular, Bitcoin shows resilience, trading in a consolidation area before its next move.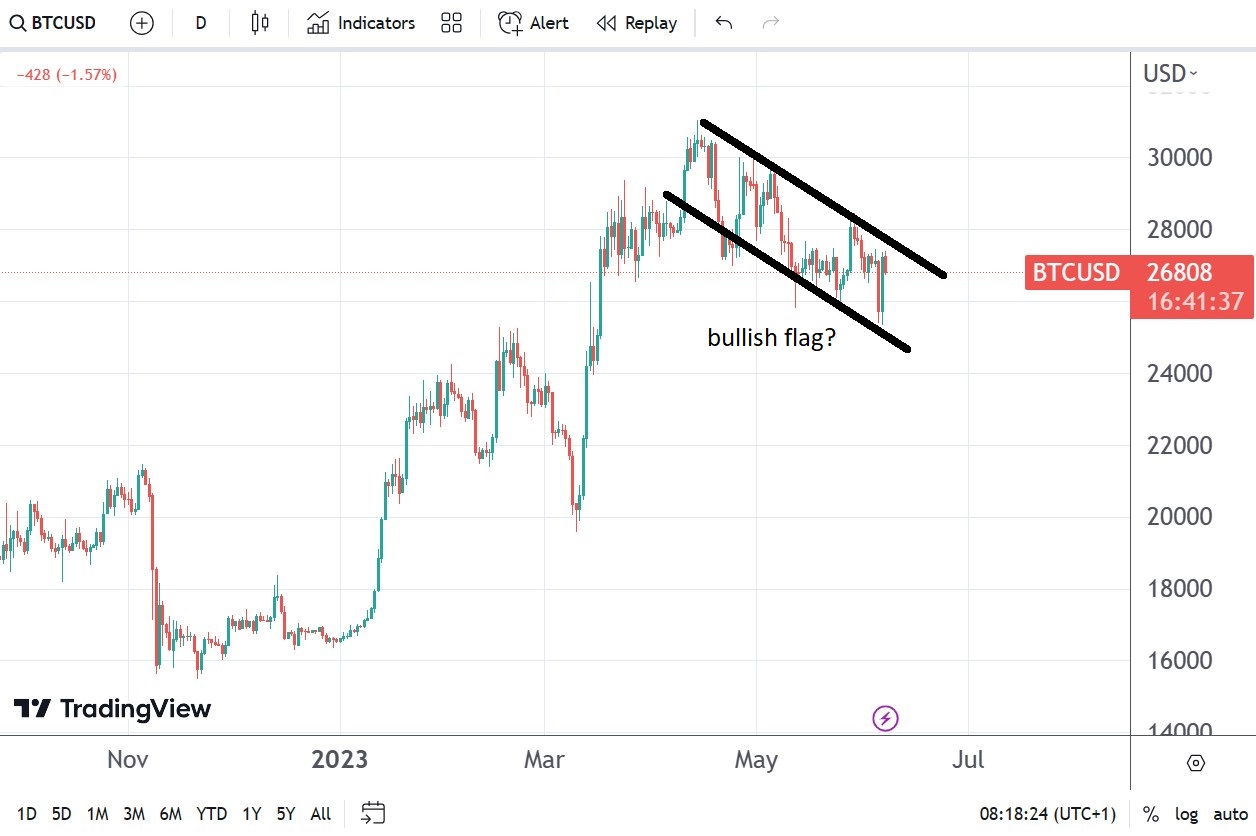 Is Bitcoin forming a bullish flag pattern?
One of the reasons why Bitcoin is resilient to such news is that it has become much more correlated with traditional markets. For instance, the tech sector's movements influence Bitcoin much more than anything else. 
Tech stocks surged in 2023, and so did Bitcoin. 
After failing at $30k, it entered a consolidation which continues still. At this point, it looks like Bitcoin forms a bullish flag pattern, but only if the market makes a new yearly high one may be sure the consolidation ended. 
Therefore, to trade this bullish flag, one needs two things. One is to wait for the market to move first and trade above $30k again. Such a move will signal that the bullish consolidation is over, and it is time to trade the measured move. 
In this case, the measured move is about $10k projected from the upper edge of the flag. That gives us a target of $38k for Bitcoin, should it make a new high for the year. 
All in all, the recent scandals might prove, once again, Bitcoin's resilience. The cryptocurrency moves in line with the US dollar and the tech sector, and so, if the Federal Reserve decides to pause and not hike the funds rate at the next week's meeting, Bitcoin's chances of squeezing higher increase significantly. 
The post Bitcoin unfazed by SEC suing Coinbase and Binance appeared first on CoinJournal.
Disclaimer
The views and opinions expressed in this article are solely those of the authors and do not reflect the views of Bitcoin Insider. Every investment and trading move involves risk - this is especially true for cryptocurrencies given their volatility. We strongly advise our readers to conduct their own research when making a decision.