At bitFlyer USA, our goal is to be the simplest way to buy and sell cryptocurrencies. For that reason, we've redesigned our funding page experience on desktop and smartphone web to make the deposit and withdrawal process more intuitive for you.
Here's how to make an instant USD deposit on bitFlyer:
Note: make sure you've already verified your bitFlyer account. If you haven't, log in to get started.
1. Go to the account funding page and select ACH
Log in to your bitFlyer account and click on the Account Funding tab. You can also access the page directly through this link.
With ACH, you can instantly deposit USD directly from your bank account for no fee.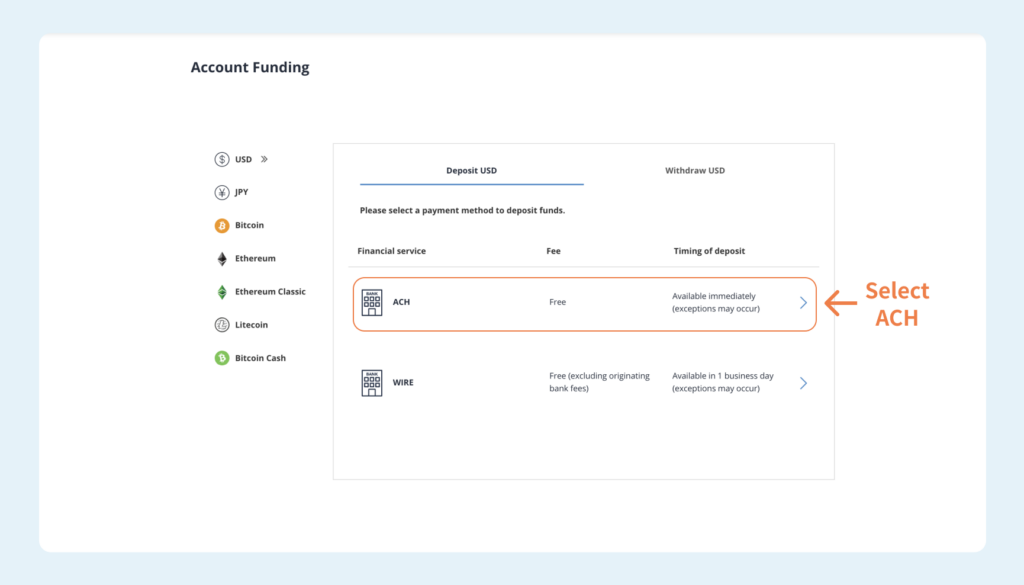 2. Link your Bank Account through Plaid
After you select ACH, click on the "Link Bank Account" button to add your bank account as a funding source on bitFlyer.
You will be redirected to Plaid, which provides the most seamless and secure way to connect your bank account to bitFlyer in order to deposit and withdraw USD via ACH.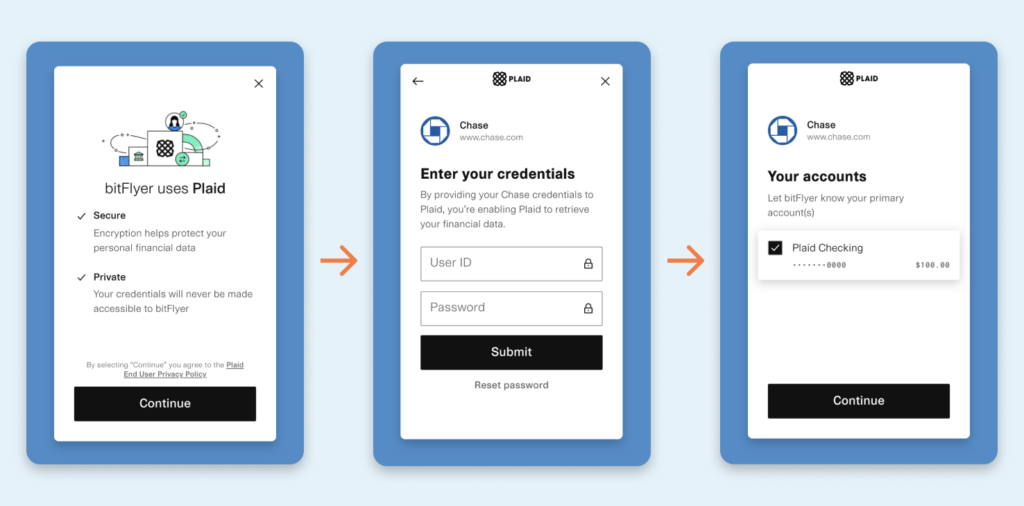 3. Select your linked bank account and make a deposit
Once you've linked your bank account through Plaid, it will show up on the ACH page. After you click on it, you should see something like the image down below.
Enter the amount you wish to deposit and hit Deposit to make your transfer.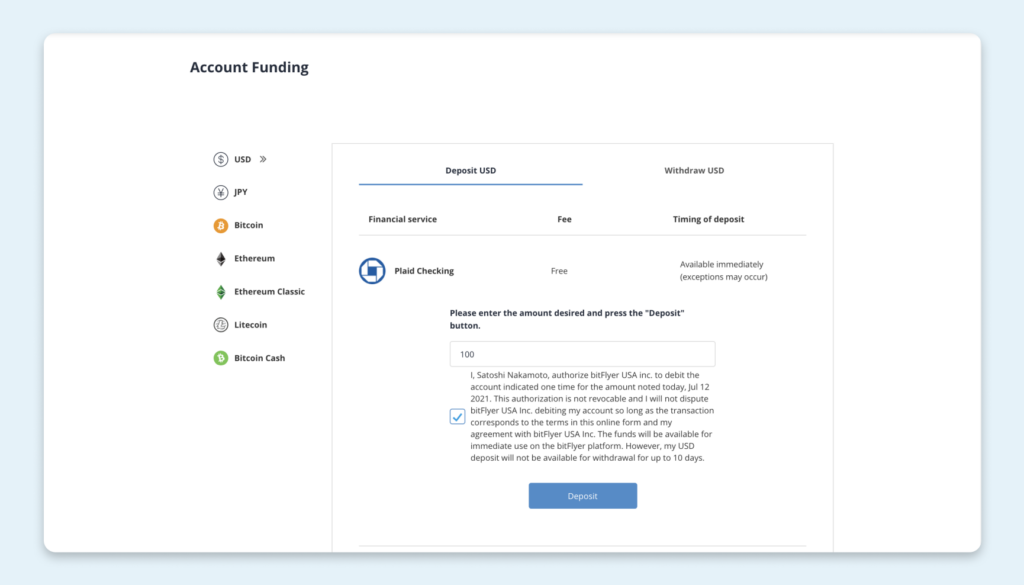 4. Start trading!
You will see a message saying your funds have been received. To start buying crypto, simply click on "Buy/Sell" in the toolbar to the left.
Your USD deposit will be instantly available for trading. Keep in mind it will take a few days for your transfer to settle, but in the meantime you can buy and sell as much crypto as you want using those funds.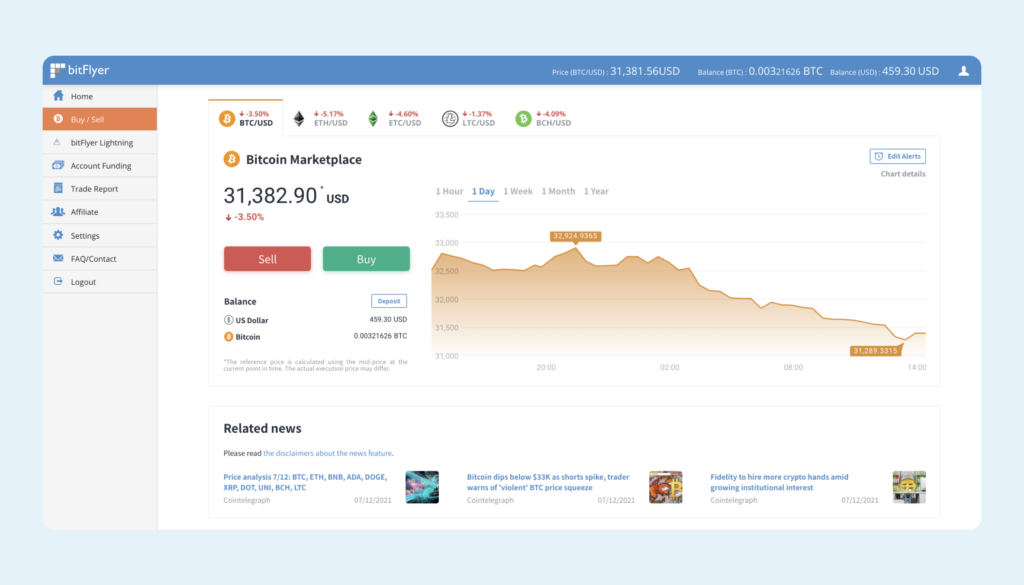 Other deposit and withdrawal methods
If you wish to deposit or withdraw crypto:
Go to the Account Funding page and select the cryptocurrency you wish to transfer. You will see your unique address displayed in text or in a QR code like shown below. For crypto withdrawals, you must register a new cryptocurrency address. More details on that in this FAQ.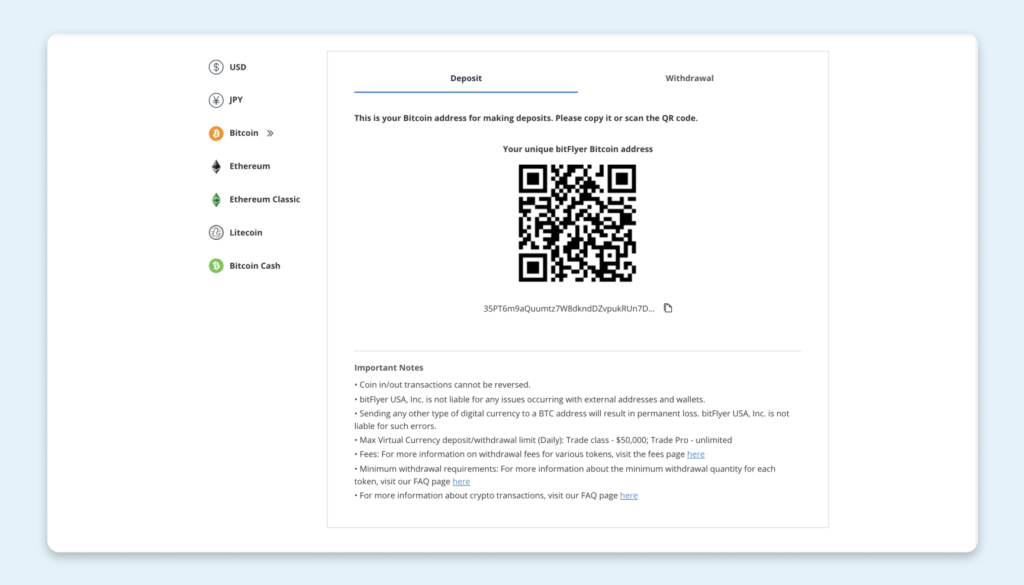 If you're looking to send larger amounts of USD or don't wish to deposit via ACH, wire withdrawals are available! Check out our FAQs for detailed instructions on how to deposit funds via wire transfers.
If you have any questions, don't hesitate to reach out to our support team!
Happy trading,
The bitFlyer USA Team
The post Say hello to the new account funding experience on bitFlyer! appeared first on The bitFlyer Blog.
Disclaimer
The views and opinions expressed in this article are solely those of the authors and do not reflect the views of Bitcoin Insider. Every investment and trading move involves risk - this is especially true for cryptocurrencies given their volatility. We strongly advise our readers to conduct their own research when making a decision.