We are excited to announce the launch of cross-border trading in the US! Starting today, US-based customers will finally have access to the world's largest Bitcoin to Japanese Yen (BTC/JPY) market in a secure and regulated way through their bitFlyer USA account. Deep liquidity and high trading volumes, instantly available.
Historically, Japan has always been one of the most important markets in the cryptocurrency space due to its high levels of adoption at the early stages of the industry, comprehensive regulatory frameworks, and unique pricing dynamics.
bitFlyer is Japan's largest cryptocurrency exchange and the main gateway to the Japanese crypto market. According to a survey we conducted earlier in March of this year, 35% of those that bought crypto in Japan used bitFlyer to do so. Additionally, in the first quarter of 2021, bitFlyer's BTC/JPY spot market posted over $30 billion in trading volume, representing 40% of the Japanese Bitcoin ecosystem and making it one of the world's largest bitcoin to fiat markets.
As a result, our BTC/JPY market has caught the attention of some of the world's largest institutional investors and sophisticated traders. However, only customers residing in Japan had access to this market due to regulatory restrictions.
Today, due to the fact that we are fully licensed in the US and Japan, we can finally open up our BTC/JPY market to US traders while complying with local regulations. Additionally, traders will be able to trade this market with the lowest crypto trading fees in the US.
We are excited to offer our customers deep liquidity and high trading volumes, as well as unique trading opportunities through our BTC/JPY market. To start trading, simply log in to your bitFlyer account, and access this market on bitFlyer Lightning.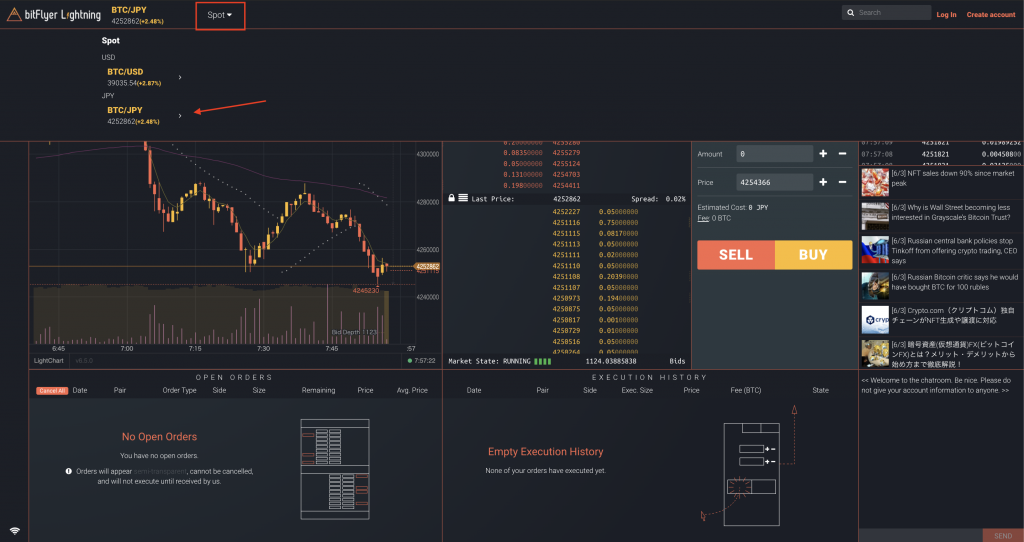 Looking ahead
Crypto is a global market. However, the current global regulatory and banking framework has created barriers between regions, which make it difficult to access markets around the world and ultimately creates inefficiencies.
As the first exchange to be licensed in the US, Japan, and Europe, our goal is to remove these barriers and allow anyone to access global markets, in order to fully unlock the power of cryptocurrencies in a regulated fashion.
Over the coming months, we will continue opening new markets and provide our customers with new unique trading opportunities that only bitFlyer can offer.
BTC/JPY is now available on bitFlyer's Lightning platform. Sign up today to start trading today.
FAQ
Is BTC/JPY available for individual customers?
Yes, BTC/JPY is available for both Individual and Corporate customers.
Can I use my existing bitFlyer balance to start trading?
Yes. You can use your BTC balance
Is BTC/JPY available through the bitFlyer Lightning API?
Yes. You can find our API here.
Is there a way to convert my USD funds to JPY, and vice-versa?
Unfortunately, not at this time.
Can I deposit or withdraw JPY to/from my bitFlyer account?
No. To access our BTC/JPY market, you must use your BTC balance.
What are the fees to trade BTC/JPY?
Same fees as our BTC/USD market, which you can find here. To calculate your bitFlyer Lightning trading fees, we will combine your trading volume across all bitFlyer products, including Buy/Sell. As an example, if you traded $750k on BTC/USD and $250k on BTC/JPY, your total trading volume will be $1m, which will then be used to calculate your fee.
The post Introducing Cross-Border Trading – Access Deep Liquidity Through The World's Largest BTC/JPY Market appeared first on The bitFlyer Blog.
Disclaimer
The views and opinions expressed in this article are solely those of the authors and do not reflect the views of Bitcoin Insider. Every investment and trading move involves risk - this is especially true for cryptocurrencies given their volatility. We strongly advise our readers to conduct their own research when making a decision.