We're turning 9 and giving you the chance to win up to 99,999,999 SHIB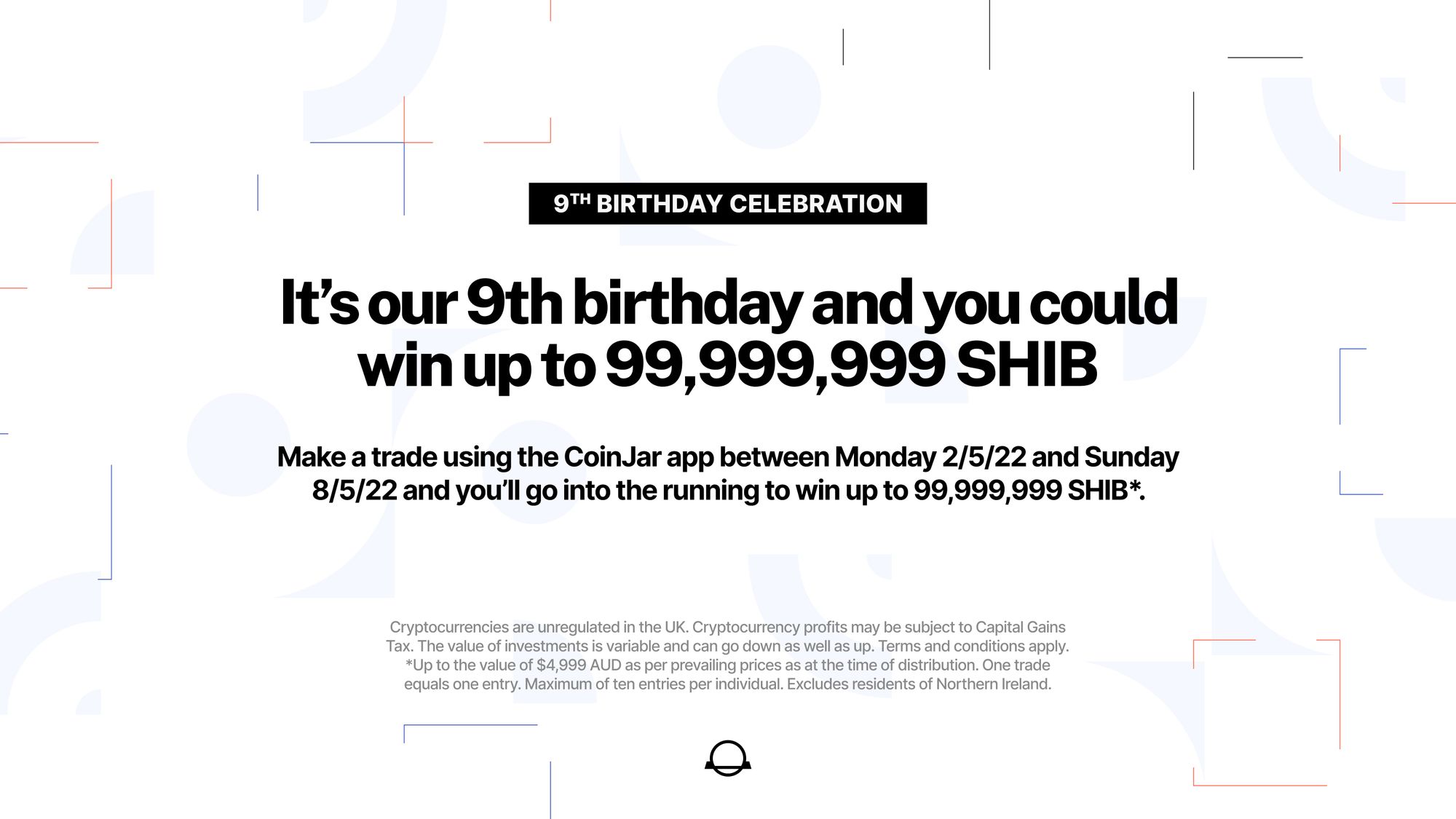 Nine years: it's a long time in the crypto world.
When we opened our doors all the way back in May 2013, it was hard to believe that we would one day become Australia's longest-running crypto exchange – and one of the oldest exchanges in the world.
Which is basically our way of saying, yeah, we've seen some stuff. Bitcoin surging from US$100 to US$69,000. The crypto market cap reaching US$3 trillion. Crashes and crypto winters to make a grown adult weep. A meme-of-a-meme coin (*cough* SHIB *cough*) becoming more valuable than GE.
And through it all we've kept building, helping more than 600,000 people in Australia and the UK to buy, sell and spend billions in crypto. We were the first Australian exchange with a mobile app. CoinJar Card was one of the first crypto Mastercards in the world; CoinJar Swipe was the first crypto card, period. We were the first Australian exchange operating in the UK, the first to obtain FCA registration and the first to sponsor an AFL team. And we're just getting started.
The nines have it
But let's be honest: you're here for the SHIB.
We've made it easy. All you need to do is make a trade on the CoinJar app between Monday 2/5/22 and Sunday 8/5/22 and you'll go in the running to win up to 99,999,999 SHIB.*
Happy trading (and happy birthday to us!)
CoinJar Team
*Up to the value of $4,999 AUD as per prevailing prices as at the time of distribution. One trade equals one entry. Maximum of ten entries per individual. Excludes residents of Northern Ireland.
​​CoinJar UK Limited is registered by the Financial Conduct Authority as a Cryptoasset Exchange Provider and Custodian Wallet Provider in the United Kingdom under the Money Laundering, Terrorist Financing and Transfer of Funds (Information on the Payer) Regulations 2017, as amended (Firm Reference No. 928767). Like all investments, cryptoassets carry risk. Due to the potential volatility of the cryptoasset markets, the value of your investments may fall significantly and lead to total loss. Cryptoassets are complex and are currently not financial products regulated by ASIC or the FCA, and you are not able to access the Australian Financial Complaints Authority (AFCA) or the UK Financial Service Compensation Scheme or the UK Financial Ombudsman Service in relation to any dispute with CoinJar relating to trading in cryptoassets. We use third party banking, safekeeping and payment providers, and the failure of any of these providers could also lead to a loss of your assets. We recommend you obtain financial advice before making a decision to use your credit card to purchase cryptoassets or to invest in cryptoassets. Profits may be subject to Capital Gains Tax.
Disclaimer
The views and opinions expressed in this article are solely those of the authors and do not reflect the views of Bitcoin Insider. Every investment and trading move involves risk - this is especially true for cryptocurrencies given their volatility. We strongly advise our readers to conduct their own research when making a decision.