While bitcoin continues to trade around the coveted $20,000 line, Binance Coin is among today's worst performers following yesterday's hack against the BNB Chain.
Most other larger-cap alts are also with slight declines, and the crypto market cap has settled at approximately $950 billion.
BNB Drops as BNB Chain Gets Exploited
Arguably the biggest news in the cryptocurrency space yesterday came when Binance announced halting the entire Binance Smart Chain following an exploit. Initial reports claimed that the attacker managed to steal roughly $600 million worth of BNB.
Although BNB Chain's official Twitter page indicated that the network has been resumed, the native token that supports it – BNB – has suffered the most from the larger-cap alts. The asset dropped from $293 to $278 minutes after the attack became public. Despite recovering some ground to $285 as of now, BNB is still 4% down on the day.
Most of the larger-cap alts are with slight losses as well. These include Ethereum, Ripple, Cardano, Solana, Dogecoin, Polkadot, and Shiba Inu.
Tron, Uniswap, and OKB are among the few exceptions with insignificant gains.
Overall, the cumulative market capitalization of all crypto assets has seen $15 billion gone in a day and is down to $950 billion on CoinMarketCap.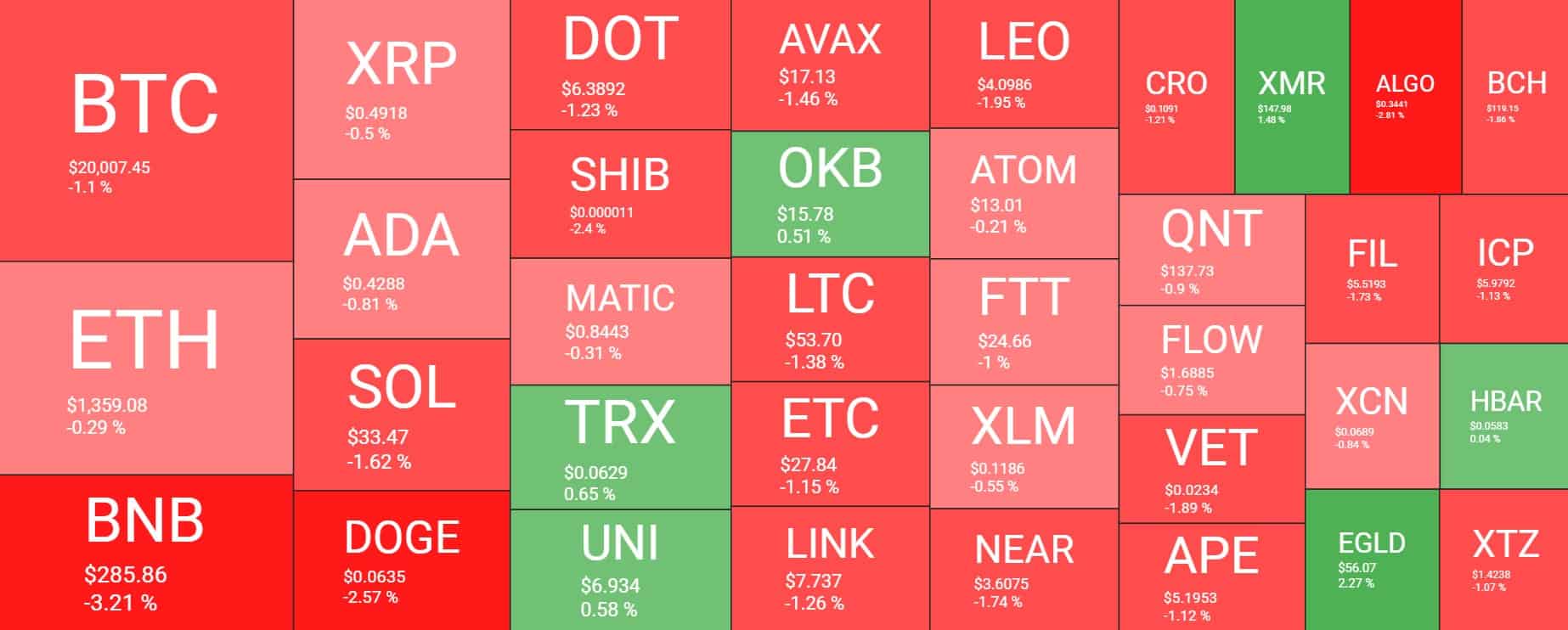 Cryptocurrency Market Overview. Source: Quantify Crypto
Bitcoin Calm at $20K
It was just four days ago when the primary cryptocurrency struggled to maintain $19,000 after a few consecutive dips below that level. However, the situation started to change after the UN urged the US Fed to stop hiking the interest rates as it could worsen the global recession.
Bitcoin reacted with a price increase towards $20,000 and even jumped to a two-week high of $20,500 on Tuesday. Although it failed to continue north, it didn't get rejected as quickly and violently as the previous few attempts and has remained above or around $20,000 ever since.
The past 24 hours didn't bring any fireworks, and BTC still stands there. Its market capitalization is north of $380 billion, while its dominance over the altcoins has settled at 40%.
BTCUSD. Source: TradingView
The post Binance Coin Drops 4% Following BNB Chain Hack (Market Watch) appeared first on CryptoPotato.
Disclaimer
The views and opinions expressed in this article are solely those of the authors and do not reflect the views of Bitcoin Insider. Every investment and trading move involves risk - this is especially true for cryptocurrencies given their volatility. We strongly advise our readers to conduct their own research when making a decision.