Polygon, the Ethereum scaling solution, has surpassed BNB Chain in the number of daily transactions, according to on-chain data analyzed by CryptoSlate. 
On Jan. 29, BNB Chain recorded 3,007,245 transactions, while Polygon processed 3,066,110 in the same period.
Data derived from Polygonscan and BscScan highlighted the increase in daily transactions compared with the declining number of transactions on BNB Chain.
Polygon PoS daily transactions | Source: Polygonscan
While transaction volume on Polygon has declined since June 2021, transactions have remained range bound between 2 – 4 million per day for the past year. Further, since October 2022, daily transaction numbers have gradually increased.
However, the graph for BNB Chain tells a drastically different story. Daily transactions on BNB Chain peaked later than Polygon at the 2022 market peak in November. Following this, the number of transactions steadily declined to 3.08 million per day from a high of over 11 million.
BNB Chain daily transactions | Source: BscScan
The increase in activity on the Polygon proof-of-stake network aligns with its strong market performance. In fact, since June 2022, Polygon has performed remarkably well against Bitcoin, up 167% over the past 224 days. In addition, MATIC, the native token of the Polygon PoS chain, rose 251% against the dollar over the same period.
The candles represent MATIC-USD, while the blue line depicts the price of MATIC denominated in BTC.
MATIC-BTC-USD
Therefore, the chart illustrates that the bear market for Polygon ended over six months ago, with the 2023 price rallying continuing a substantial bullish trend.
However, data from Santiment, a blockchain analytics company, highlighted an interesting on-chain event on Jan. 25. $56 million worth of MATIC was sent to a whale address just before the recent pump.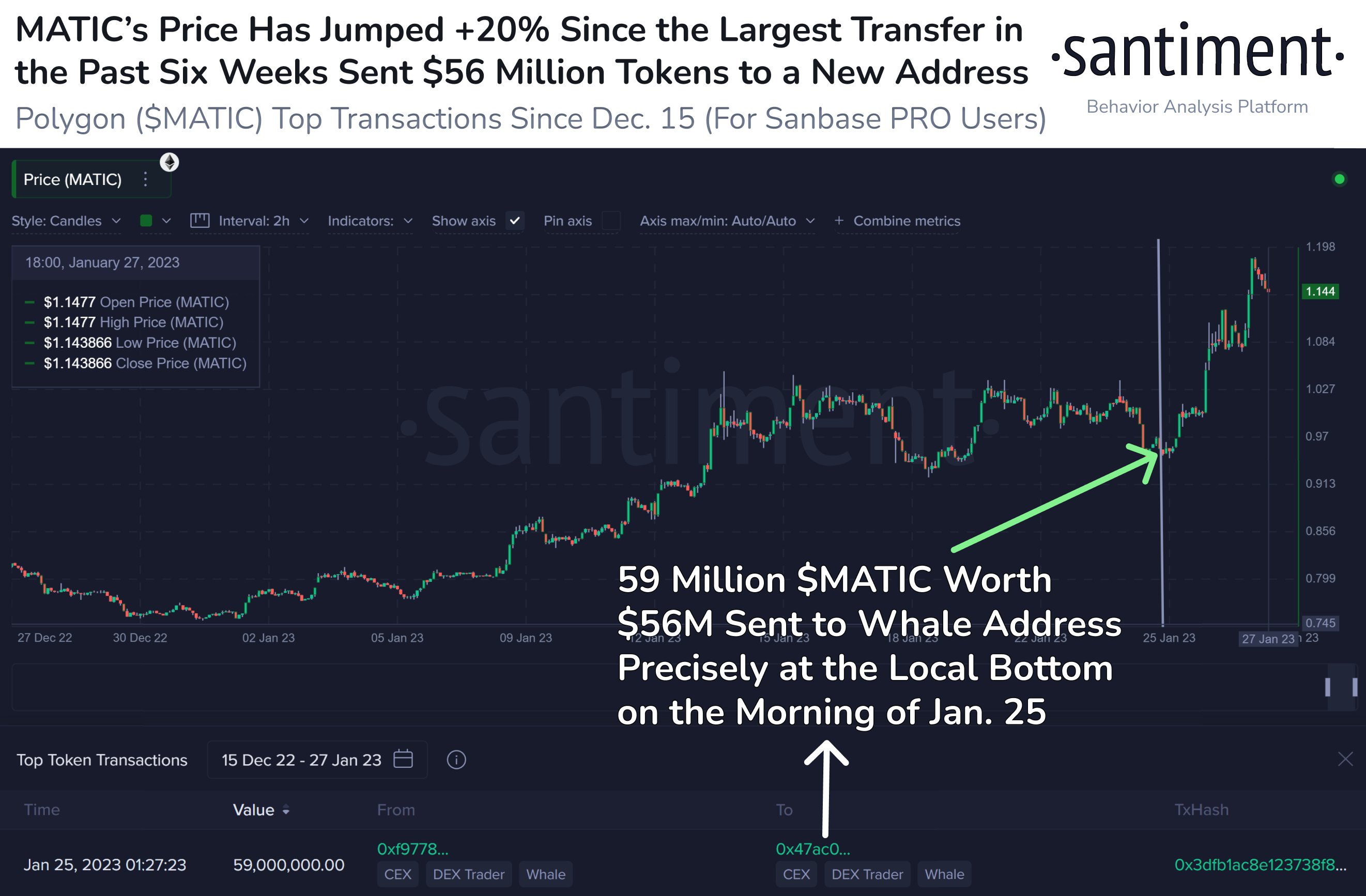 Source: Santiment
Santiment stated:
"The largest $MATIC transfer of the year occurred just prior to this +20% pump. This address had already been holding 585k #Ethereum as well. Often times, just one or a few whale addresses is all it takes."
Last year, Polygon entered significant partnerships with Nike, Meta, Warner Music, and announced advancements on other Polygon chains, such as the ZK protocol. Adoption within the Polygon ecosystem has continued to rise, with the performance being mirrored in the price of MATIC.
The post Polygon surpasses BNB Chain in daily transactions as MATIC pumps 20% over weekend appeared first on CryptoSlate.
Disclaimer
The views and opinions expressed in this article are solely those of the authors and do not reflect the views of Bitcoin Insider. Every investment and trading move involves risk - this is especially true for cryptocurrencies given their volatility. We strongly advise our readers to conduct their own research when making a decision.