Around 620,000 new Bitcoin (BTC) addresses holding 0.1 BTC or less joined the network when the flagship asset regained the $20,000 mark on Jan. 13, according to Santiment data.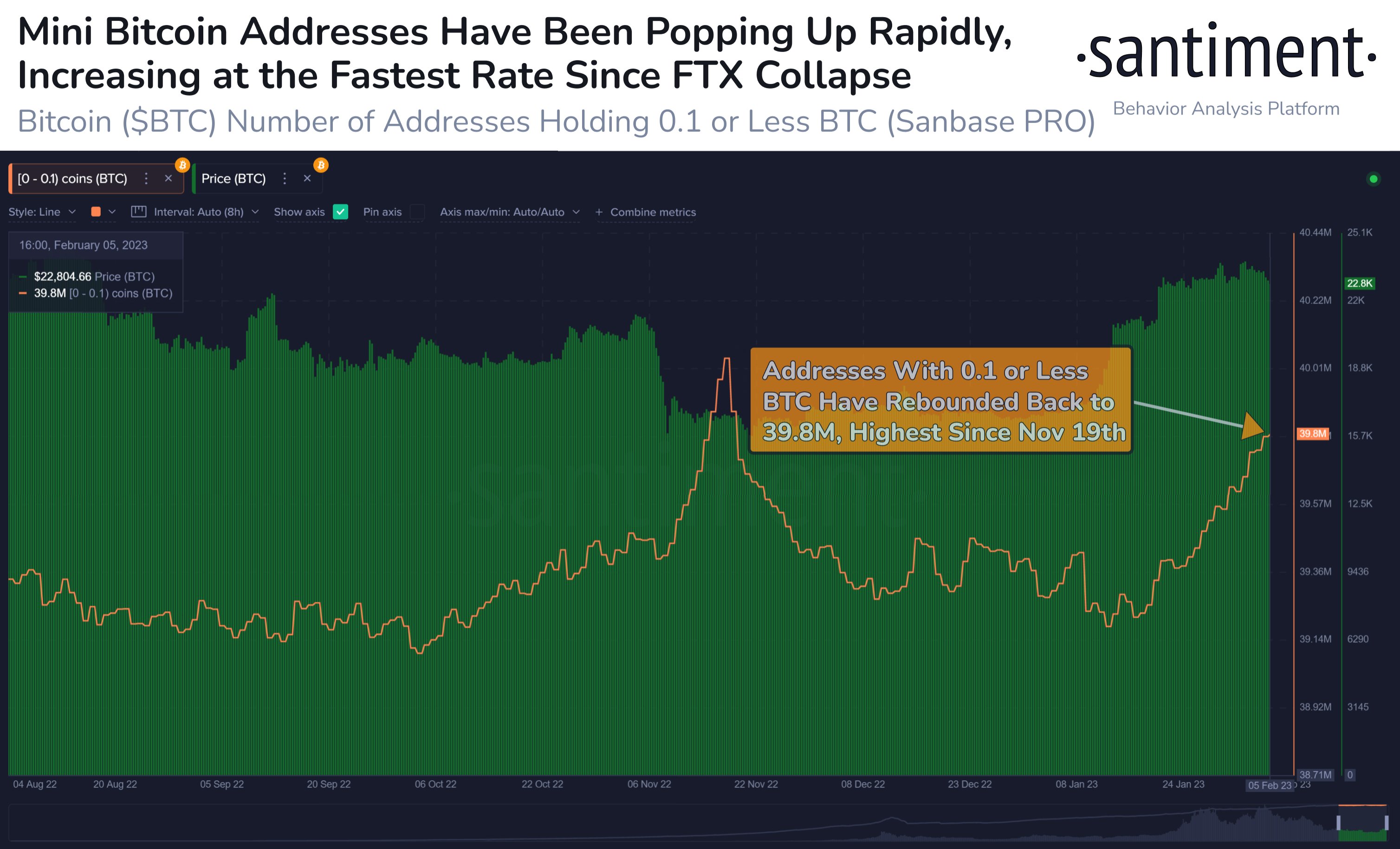 Source: Santiment
The blockchain analytical firm noted that these investors were majorly driven by the fear of missing out (FOMO) on the BTC bounce that took the asset's value to as high as $24,167 in 30 days.
During this period, BTC market sentiments entered the "greed" zone for the first time since March 2022.
The total number of these addresses reached 39.8 million, Santiment added — the highest level since Nov. 19 amidst the FTX collapse.
Bitcoin analysts said this cohort accumulation is good for the network because it would make the asset more decentralized over time.
Meanwhile, amid this cohort's new wave of investments,  a significant whale transaction occurred on Feb. 4, Santiment reported. A new whale address went from holding zero BTC to 13,369 BTC in one transaction, according to the firm. It added that this was the largest BTC transaction in the previous four weeks.
Bitcoin drops below $23k
Following a solid price performance in January, BTC price fell by roughly 4% since the beginning of February, according to CryptoSlate data.
The digital asset experienced a mild sell-off over the weekend that took its value to below $23,000 on Feb. 5, liquidating around $30 million from the market.
The post Over 600,000 small addresses FOMO'ed into Bitcoin at $20k appeared first on CryptoSlate.
Disclaimer
The views and opinions expressed in this article are solely those of the authors and do not reflect the views of Bitcoin Insider. Every investment and trading move involves risk - this is especially true for cryptocurrencies given their volatility. We strongly advise our readers to conduct their own research when making a decision.