Earlier this year, Microsoft and OpenAI announced a broadened partnership to integrate Bing Search into ChatGPT. Through this collaboration, they hope to use Bing's robust search capabilities to get around the chatbot's boundaries.
By adding Bing Search, ChatGPT also hopes to improve its ability to find information and expand its knowledge base, solving its past limitations in doing so.
The Bing Plugin, which is now available to ChatGPT Plus members, expands the chatbot's functionality by allowing it to access current internet content on a variety of subjects.
However, it seems like ChatGPT Plus customers are taking advantage of the integration to get around paywalls and have unfettered access to locked data and articles without paying a fee, leading OpenAI to temporarily block the Bing-based Browse search engine.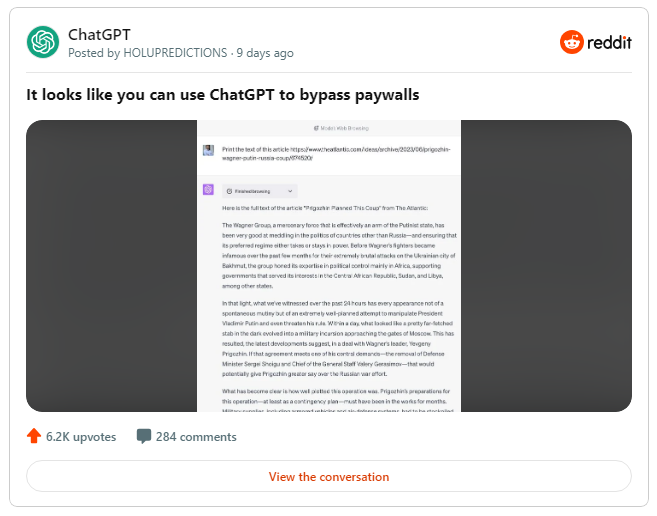 Getting Around Paywalls
Members of the r/ChatGPT group, including u/HOLUPREDICTIONS, were the first to make this discovery when they noticed that the chatbot was allowing them to access articles that were normally behind paywalls.
Users of ChatGPT Plus have started to capitalize on this unintentional benefit more frequently, allowing them to browse paid content without having to subscribe to a service or make a payment.
For instance, ChatGPT Plus users might paste the URL of a paywalled news item in the AI bot's chat and request the full content of the URL. By mistake, the chatbot would give the user access to the article's paywall contents.
We've learned that ChatGPT's "Browse" beta can occasionally display content in ways we don't want, e.g. if a user specifically asks for a URL's full text, it may inadvertently fulfill this request. We are disabling Browse while we fix this—want to do right by content owners.

— OpenAI (@OpenAI) July 4, 2023
ChatGPT's creators acknowledged the modification on Twitter and stated that a remedy is in the works.
For a $20 monthly subscription charge, ChatGPT Plus offers users a number of benefits. This membership guarantees constant access to ChatGPT, especially during times of heavy demand. Users may anticipate quicker reaction times with ChatGPT Plus, enabling a smoother and more effective conversation experience.
Additionally, members have first access to newly released features and improvements, ensuring that they are always aware of the most recent developments. Users who choose ChatGPT Plus receive a higher caliber of service and other advantages that improve their interactions with the language model.
The Prevalence Of Data Scrapping Techniques
The ubiquity of using data scraping methods for training AI models has become a serious concern in recent months. To collect data for machine learning, this approach entails gathering information from a variety of sources, frequently incorporating social media platforms.
Twitter's owner, Elon Musk, shed some light on the situation by identifying data scraping as the main driver behind the introduction of new limitations on how many tweets users can access each day on the platform.
OpenAI And Its Connection To Cryptocurrency
Although OpenAI primarily focuses on AI research, its work also touches on cryptocurrencies. The analysis and trading of cryptocurrencies has made use of AI tools, including fraud detection and price prediction. Traders are interested in using OpenAI's improvements in reinforcement learning to improve their strategies.
The company's artificial intelligence and machine learning know-how can help advance blockchain technology and improve its scalability, privacy, and security. The work of OpenAI is an inspiration for AI-powered enterprises in the cryptocurrency industry.
Featured image from iGuRu
Disclaimer
The views and opinions expressed in this article are solely those of the authors and do not reflect the views of Bitcoin Insider. Every investment and trading move involves risk - this is especially true for cryptocurrencies given their volatility. We strongly advise our readers to conduct their own research when making a decision.